At Cypress we are dedicated to helping developers write better code faster by making it easy and delightful to test their code. When we launched the Cypress Dashboard in 2017 our goal was to provide the added tools required for teams and businesses scaling up their test automation to meet the high quality demands of their customers.
In serving this mission, we spent a lot of time listening to feedback from our customers. We heard one main theme time and time again– customers need flexible pricing that scales easily to meet their needs and that makes the power of Cypress accessible to more teams around the world.
Today we're releasing new pricing plans and features for the Cypress Dashboard that allow us to continue to deliver on this mission– making it easy and delightful for developers, teams, and businesses to deliver high-quality, bug-free experiences to their users and customers.
Pricing that scales.
New consumption-based pricing– pay only for the test results you use.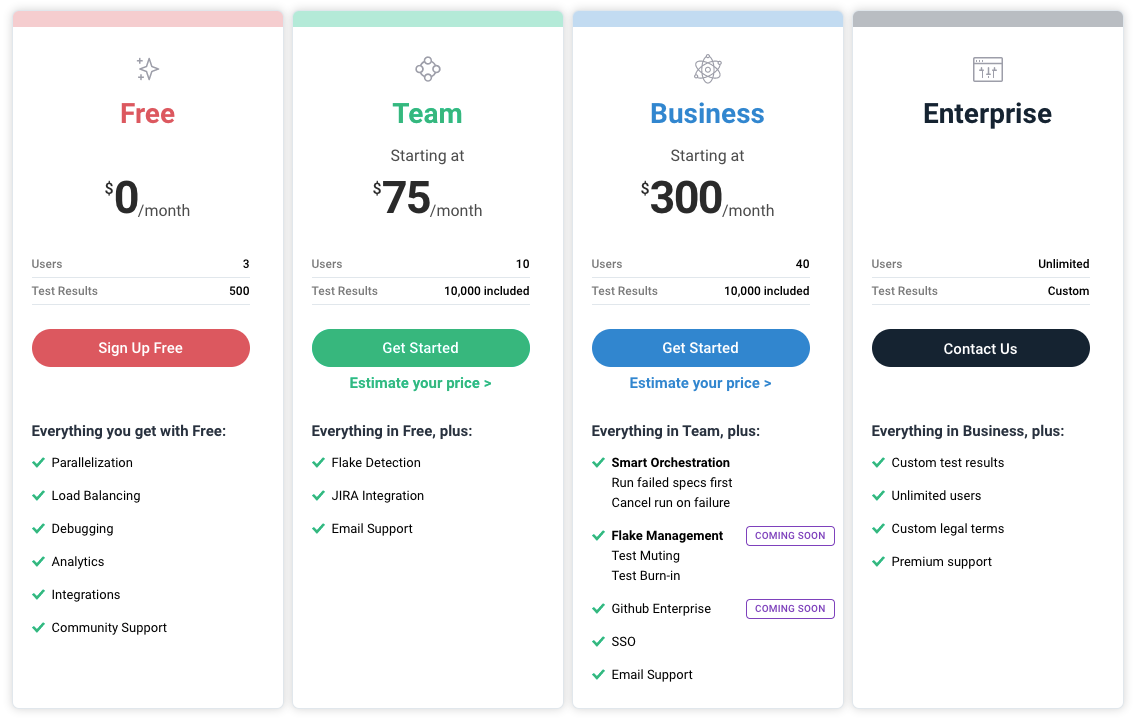 Our new plans are now based on consumption-based pricing that ensures you only pay for what you use. We've also introduced new features and updated each plan to better reflect the use cases of our customers.
What's staying the same?
If you're a current customer, your Cypress Dashboard plan doesn't need to change right now. Although our Seed, Sprout, Tree, and Forest plans are no longer available, existing customers can stay on their current plan. Your Cypress plan will stay exactly the same as will the features you have access to today.
We will continue investing substantially in the features and functionality of our open source Test Runner. Our commitment to open source is core to the foundation of Cypress, and we are excited to continue to invest in our OSS community.
Learn more & get started today
You can learn more about the specific details of our new pricing plans and get started today by visiting our pricing page.
If you already have an active subscription, any "Owner" or "Admin" of your Cypress Dashboard organization can review the current subscription details as well as the new pricing options under the "Billing & Usage" section of the Cypress Dashboard.

As always, if you have any questions about your specific pricing plan, we're here to help.