Developers use Netlify's powerful serverless platform for Jamstack to increase productivity and simplify site building. Join us Thursday, March 18th at 2:30pm EST/11:30am PST to find out how you can easily add Cypress tests to your Netlify workflow to build, deploy, and test efficiently without compromising quality.
Your Webcast Hosts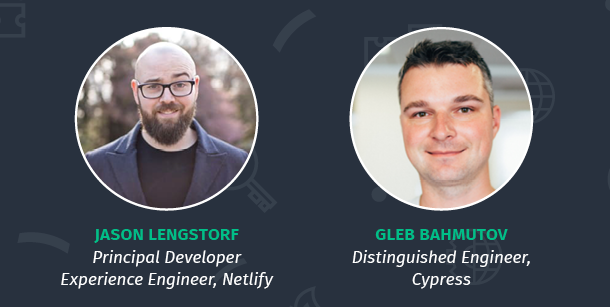 ---
In this webcast, we'll show you how to use the Cypress Netlify build plugin to make sure your Jamstack site deploys are bug-free, every time.
Next, you'll learn:
How Netlify streamlines your developer workflow, and how testing fits into this process
How the Cypress Netlify Build plugin was created
How the plugin can help you easily add E2E tests after your builds finish—ensuring that you never deploy a broken site
Finally, you'll see how to get up-and-running with the Cypress Netlify build plugin with a live demo, followed by live Q&A from our audience.
---
PS - If you can't attend the live broadcast, go ahead and register anyway - we'll be sure to send a recording of the webcast to all registrants. Until next time!