Faire's fast-growing online marketplace enables over 30,000 independent brands to connect with over 250,000 retailers across the world. Join us Wednesday, September 29th at 2:00pm EDT/11:00am PDT to find out how the team built their E2E testing setup from scratch using Cypress, and how they accomplished a scalable release verification strategy with nearly 100 front-end and back-end developers writing Cypress tests.
Your webcast hosts: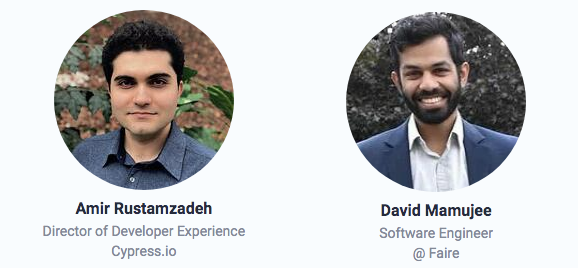 ---
In this webcast, we'll show how Faire went from having no E2E tests to relying on Cypress E2E tests to confidently deploy multiple releases per day.
Next, you'll learn:
How Faire organizes their multi-repo setup for testing both their retailer and brand experience.
How the team manages flaky tests with methods like tagging tests and running their E2E tests against a local backend instance.
How the team uses Cypress E2E tests to test configuration/setting value modifications.
Finally, we'll review the miscellaneous usages and benefits of their E2E tests. We'll conclude the webcast with Faire's future plans for Cypress in their organization, followed by live Q&A from the audience.
---
PS - If you can't attend the live broadcast, go ahead and register anyway - we'll be sure to send a recording of the webcast to all registrants. Until next time!