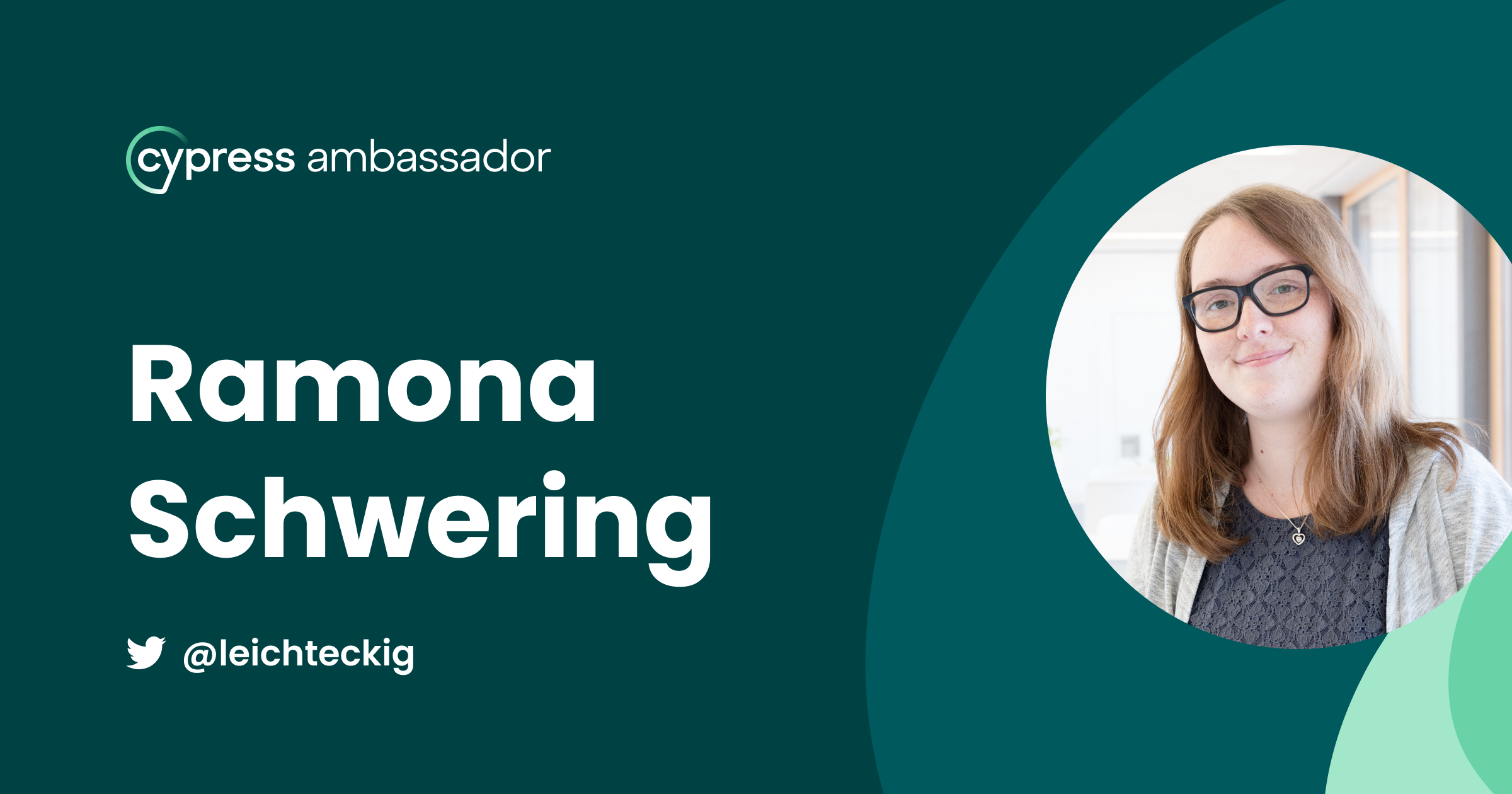 Meet Ramona Schwering.
Ramona is a self-proclaimed introvert who constantly challenges the status quo. Despite her claim, Ramona has participated in numerous workshops and events, while providing support for numerous Cypress community members. As a woman in tech, she is consistently advocating to see more representation in the testing industry.
What motivates you to be a Cypress Ambassador?
One word: community. I discovered Cypress by visiting a conference where I hosted a session set up like a support group. My Connection to cypress grew even stronger by working with Cypress in Hackathons, meetups and conferences and other open source projects. These communities helped me so much and now, I want to give something back. So I love to make an impact by helping people to create a magnificent testing experience for developers and testers alike. As I'm working for an open source community, it's even more important to have the opportunity to contribute. As a Cypress ambassador, I can do that even better.
How do you currently help others that are either using Cypress or interested in using Cypress?
I love to learn publicly and as a result, I'm spreading my knowledge of Cypress by giving talks and writing articles. Not only by doing that myself, I want to provide a platform or opportunity for others as well, including being one of the founding members of the German Cypress community. Aside from hosting a Discord server, we host a variety of events and try to provide a safe space with instructive and inspiring talks, sessions, and discussions afterwards.
What is your favorite Cypress feature?
All features increase developer experience while debugging, especially time traveling❤️ It helps me a lot when it comes to debugging my application by helping you "see" what's happening inside of your tests.
Outside of work, what are your favorite things to do (hobbies, passions, etc.)?
I'm quite nerdy I think. 👾 From gaming to movies and books.
What is one professional milestone you are proud of? (an accomplishment, celebration, recognition, etc.)
Being able to be a public speaker and feel comfortable doing that, despite being very introverted. ❤️
What is your favorite quote or saying?
"Quality is not an act, it is a habit."
About the Ambassador Program.
The Cypress Ambassador program supports the top Cypress advocates around the world. Through this program, Ambassadors are offered speaking opportunities, a personalized hub, and visibility within our extensive network. To learn more about these wonderful ambassadors visit our Official Ambassador webpage.
---
The Cypress Community Team has been working on (re)launching the official Cypress Ambassador program to include a variety of new experiences, support resources, benefits, contribution areas, and much more. One of our main priorities is to highlight our current Ambassadors and the amazing work they are doing. They truly embody the community spirit through their advocacy to help empower others. We will be having more opportunities to connect with our Ambassadors this year. Make sure to stay updated on upcoming events and opportunities.