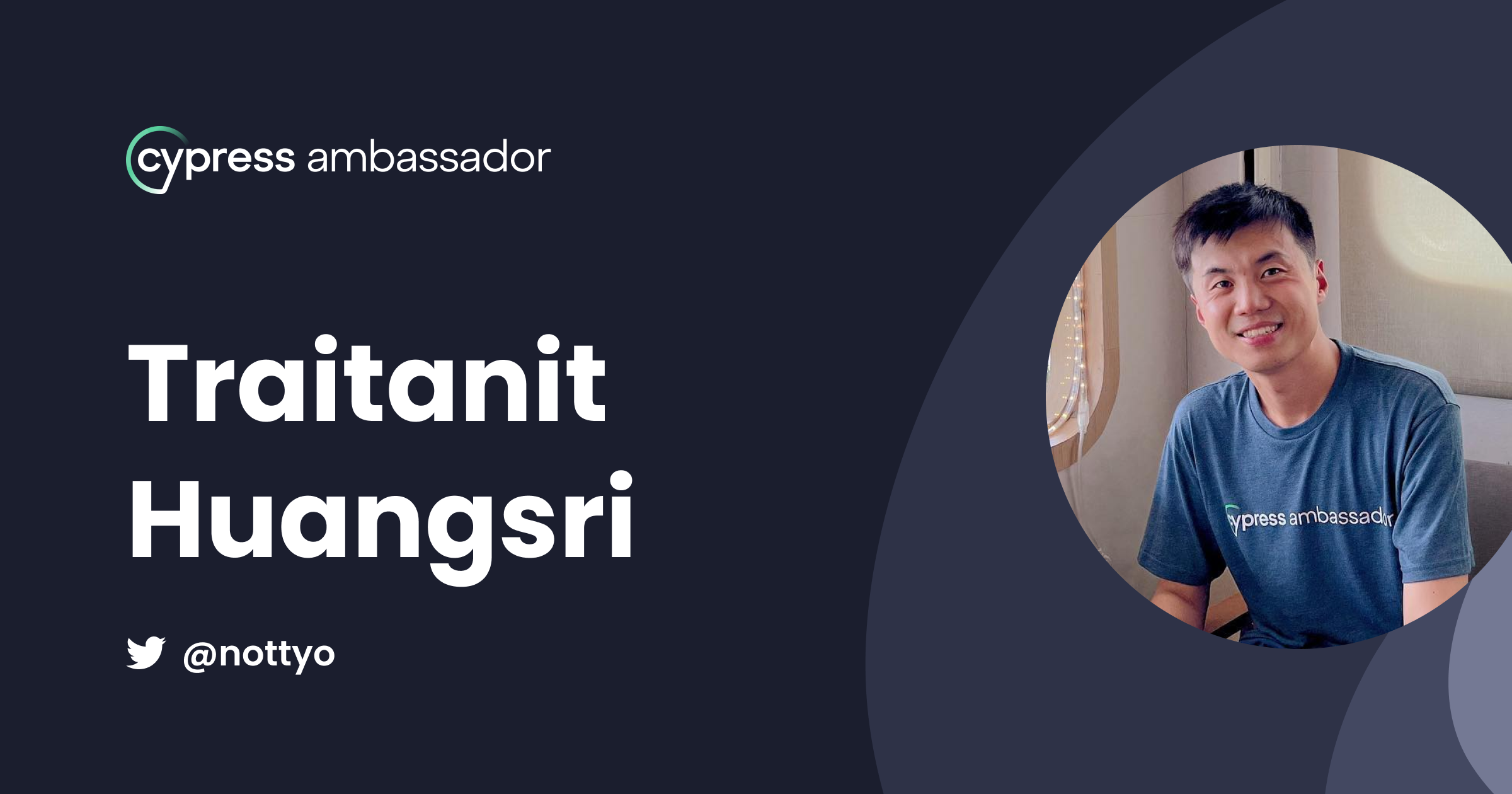 Meet Traitanit Huangsri.
Traitanit was first introduced to Cypress in 2018 with ambitions to provide more support for users in his regional area. Fast-forward to 2022 and he is now leading one of the largest Cypress communities in Thailand with over 3,000 members and consistent growth!
What motivates you to be a Cypress Ambassador?
I want to build a great Cypress community in Thailand and share best practices on how to write good tests for Thai engineers.
How do you currently help others that are either using Cypress or interested in using Cypress?
I help a lot of people to solve their testing problems. For example, I give them a suggestion on how to select elements with Cypress, including sharing some Cypress tips and techniques on how to use Cypress effectively within their project.
What is your favorite Cypress feature?
Component Testing
Outside of work, what are your favorite things to do (hobbies, passions, etc.)?
I love running. I run almost every day in the morning. It makes me feel refreshed before start to work. I'm also studying Korean as my 3rd language, because I'm interested in Korean culture-- like foods, music, etc.
What is one professional milestone you are proud of? (an accomplishment, celebration, recognition, etc.)
I have been building a Cypress community in Thailand since late 2018. At that time, no one knew Cypress. The community is growing every day. Right now, we have more than 3K members in the Cypress Thailand Community . There are QA/Software Engineer jobs in Thailand that require and have Cypress skills written in the job description. This is one of the accomplishments that I am most proud of. Cypress is now well-known in the software development industry in Thailand.
What is your favorite quote or saying?
I do not have any favorite quotes in my mind. It's always changing from time to time.
About the Ambassador Program:
The Cypress Ambassador program supports the top Cypress advocates around the world. Through this program, Ambassadors are offered speaking opportunities, a personalized hub, and visibility within our extensive network.To learn more about these wonderful ambassadors visit our Official Ambassador webpage.
---
The Cypress Community Team has been working on (re)launching the official Cypress Ambassador program to include a variety of new experiences, support resources, benefits, contribution areas, and much more. One of our main priorities is to highlight our current Ambassadors and the amazing work they are doing. They truly embody the community spirit through their advocacy to help empower others. We will be having more opportunities to connect with our Ambassadors this year. Make sure to stay updated on upcoming events and opportunities.