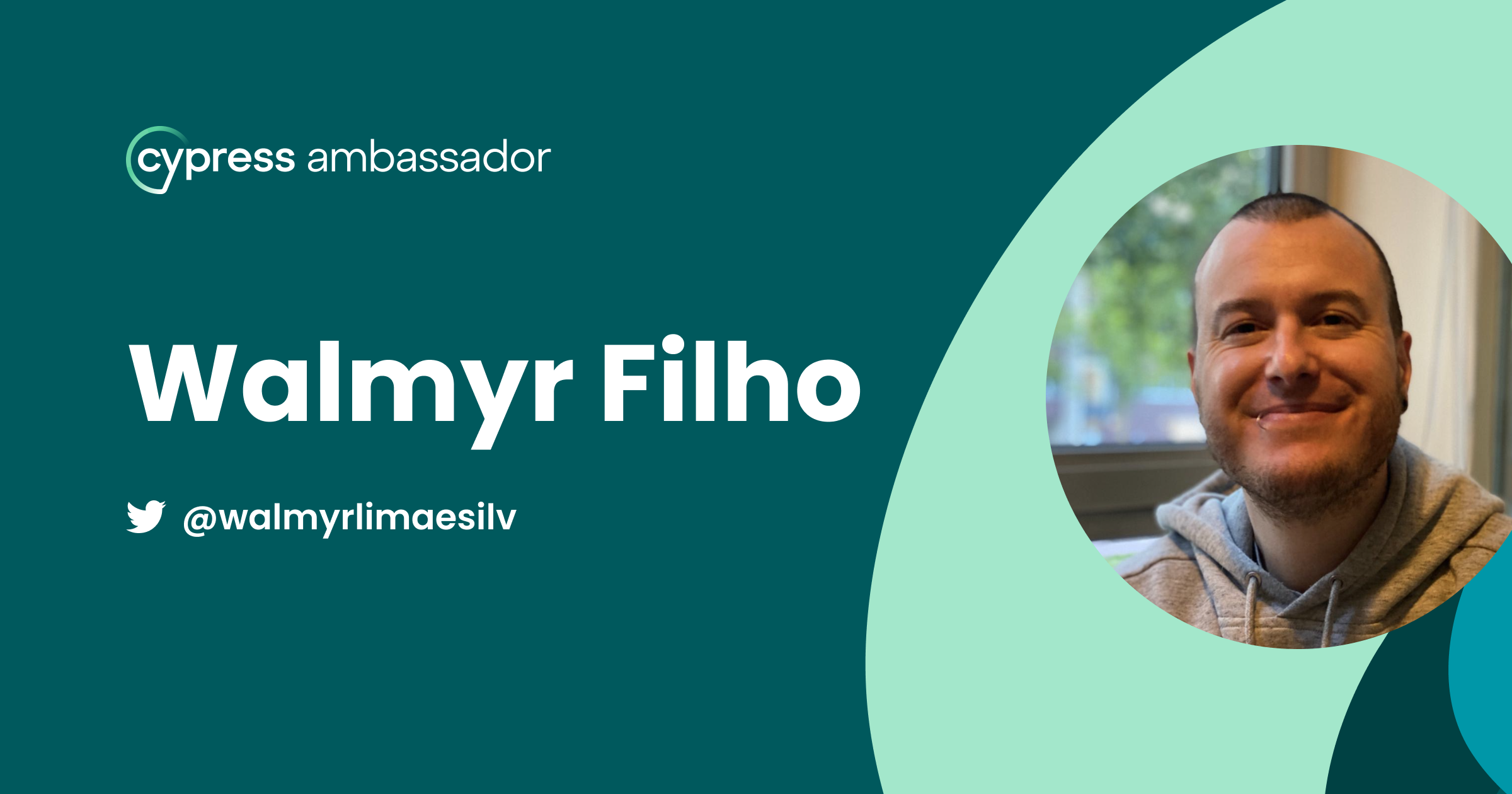 Meet Walmyr Filho.
Whether he is creating a blog or uploading a tutorial on Cypress' newest feature, Walmyr is always looking for opportunities to keep users updated on the latest best practice for running successful tests!
What motivates you to be a Cypress Ambassador?
The mix of power and simplicity that Cypress provides me is what motivates me to be a Cypress Ambassador.
How do you currently help others that are either using Cypress or interested in using Cypress?
I run live coding sessions on YouTube, including hands-on videos and interviews with other professionals that use the tool. I also create blog posts that include quick Cypress tutorials (English and Portuguese), teach online courses with Udemy and on Coursify, and mentor QA professionals that want to learn or improve their experience using Cypress. When I'm not teaching, you can find me at different conferences, on social media, etc.
What is your favorite Cypress feature?
Cy.intercept
Outside of work, what are your favorite things to do (hobbies, passions, etc.)?
Skateboarding, cooking and eating vegan food, coding for fun, and, spending time with my family (wife and cats).
What is one professional milestone you are proud of? (an accomplishment, celebration, recognition, etc.)
In many teams I worked on, they didn't hire a new QA when I left. I know that might sound weird, but I'm proud of that, because I was able to disseminate a culture where quality is everyone's responsibility, and where a testing specialist wasn't needed anymore.
What is your favorite quote or saying?
"Lead by example" and "practice leads to perfection".
About the Ambassador Program.
The Cypress Ambassador program supports the top Cypress advocates around the world. Through this program, Ambassadors are offered speaking opportunities, a personalized hub, and visibility within our extensive network.To learn more about these wonderful ambassadors visit our Official Ambassador webpage.
---
The Cypress Community Team has been working on (re)launching the official Cypress Ambassador program to include a variety of new experiences, support resources, benefits, contribution areas, and much more. One of our main priorities is to highlight our current Ambassadors and the amazing work they are doing. They truly embody the community spirit through their advocacy to help empower others. We will be having more opportunities to connect with our Ambassadors this year. Make sure to stay updated on upcoming events and opportunities.