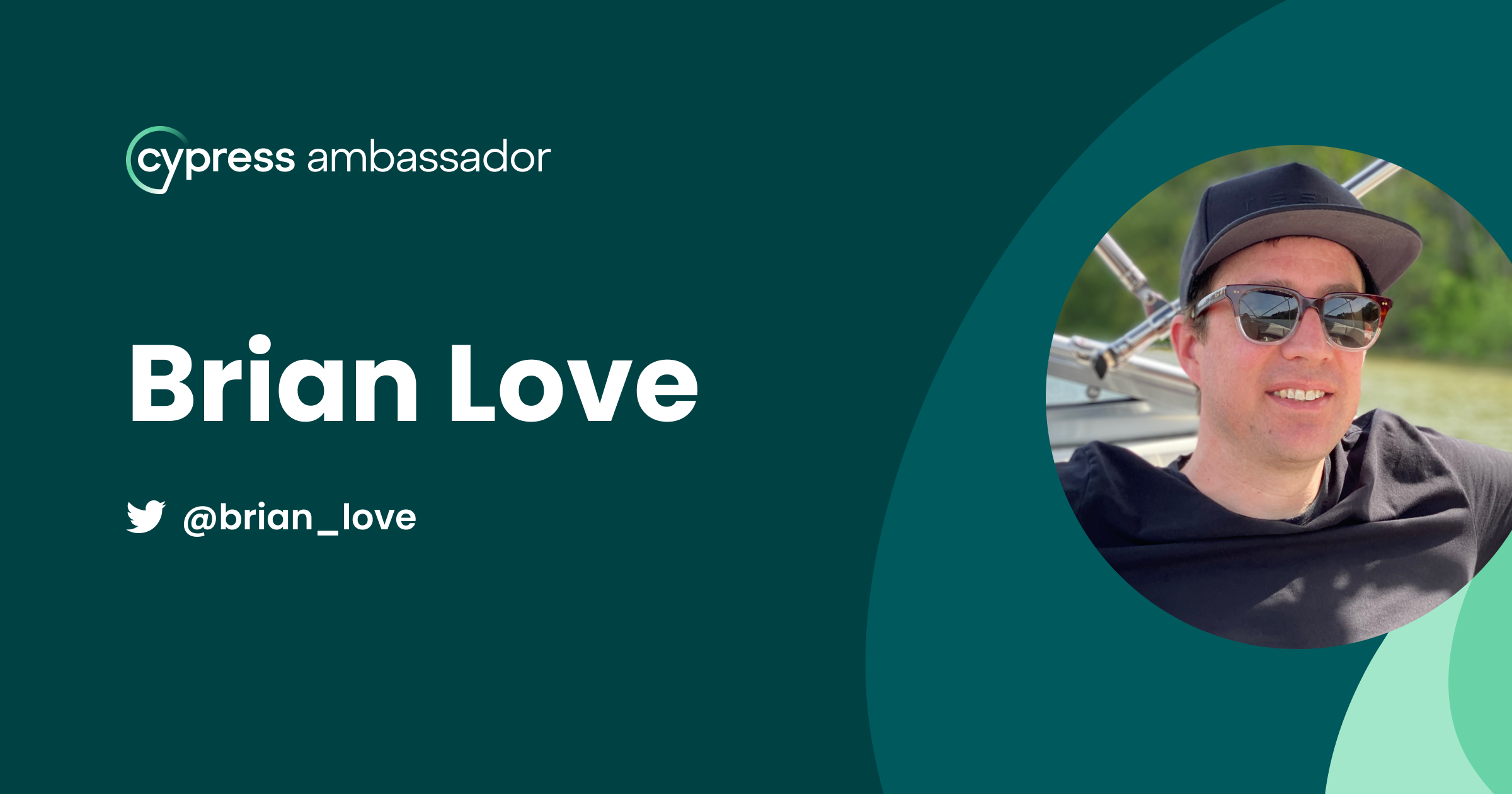 Meet Brian Love!
Cypress expert, testing guru and proud father, Brian Love transformed his knowledge for Cypress into a full-time job opportunity.  
What motivates you to be a Cypress Ambassador?
Being involved in the Cypress community, helping developers learn to use Cypress effectively, and chatting with other Cypress ambassadors.
How do you currently help others that are either using Cypress or interested in using Cypress?
Speaking at meetups on Cypress, assisting companies with using Cypress through consulting, Cypress workshops at conferences, and Cypress workshops at companies.
What is your favorite Cypress feature?
Retryability
Outside of work, what are your favorite things to do (hobbies, passions, etc.)?
I love the outdoors: hiking, mountain biking, skiing, and camping
What is one professional milestone you are proud of? (an accomplishment, celebration, recognition, etc.)
Being selected in 2018 as a Google Developer Expert in Web Technologies
What is your favorite quote or saying?
Haha, I have a lot. I would say one of my favorites is: "It's an awfully thin pancake that has only one side to it". It reminds me that everyone has their own unique perspectives and that we should never assume that our experience is all that exists.
About the Ambassador Program.
The Cypress Ambassador program supports the top Cypress advocates around the world. Through this program, Ambassadors are offered speaking opportunities, a personalized hub, and visibility within our extensive network.To learn more about these wonderful ambassadors visit our Official Ambassador webpage.
---
The Cypress Community Team has been working on (re)launching the official Cypress Ambassador program to include a variety of new experiences, support resources, benefits, contribution areas, and much more. One of our main priorities is to highlight our current Ambassadors and the amazing work they are doing. They truly embody the community spirit through their advocacy to help empower others. We will be having more opportunities to connect with our Ambassadors this year. Make sure to stay updated on upcoming events and opportunities.