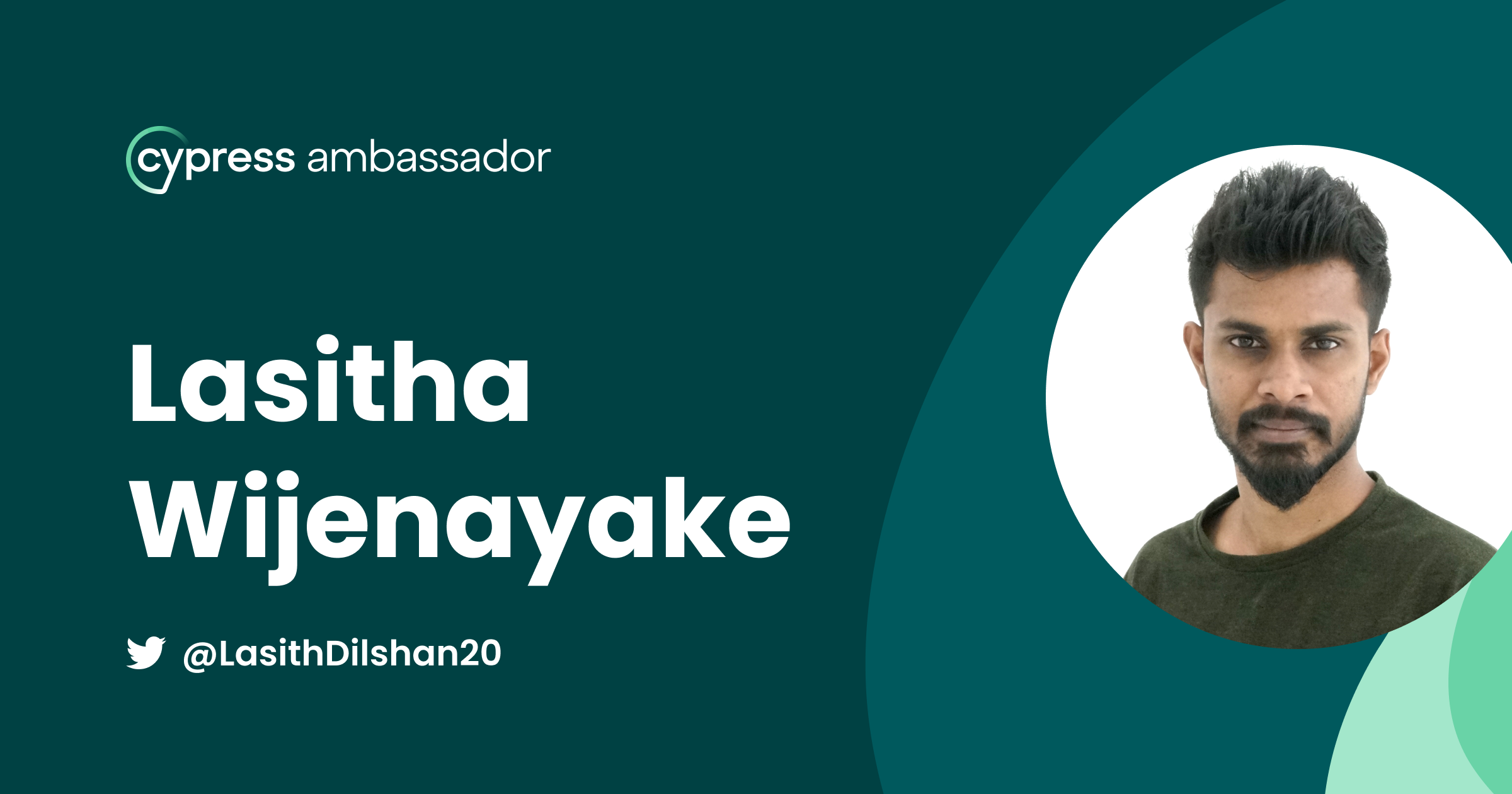 Meet Lasitha,
He has worked above and beyond to provide the Cypress community with support around new features and questions. As a Cypress Ambassador, Lasitha has developed a facebook community for members located in Sri Lanka and India.
What motivates you to be a Cypress Ambassador?
I am dedicated to promoting the joy of test automation with Cypress and assisting others along the path.
How do you currently help others that are either using Cypress or interested in using Cypress?
Using our Facebook group, if you have a problem with Cypress, please reach out to us. We were able to create a platform on social media where the community could resolve their own issues in Cypress.
What is your favorite Cypress feature?
What else but cy.intercept() :)
What is your favorite "Cypress Best Practice" and why?
"Organizing Tests, Logging In, and Controlling States".
This will help to test specs in isolation, programmatically log into your application, and take control of your application's state.
Outside of work, what are your favorite things to do (hobbies, passions, etc.)?
Football, Playing Multiplayer Computer Games
What is one professional milestone you are proud of? (an accomplishment, celebration, recognition, etc.)
I'm enjoying everything in my professional life.
What is your favorite quote or saying?
"Patience is a virtue, and I'm learning patience. It's a tough lesson." —Elon Musk—
About the Ambassador Program.
The Cypress Ambassador program supports the top Cypress advocates around the world. Through this program, Ambassadors are offered speaking opportunities, a personalized hub, and visibility within our extensive network.To learn more about these wonderful ambassadors visit our Official Ambassador webpage.
---
The Cypress Community Team has been working on the official Cypress Ambassador program to include a variety of new experiences, support resources, benefits, contribution areas, and much more. One of our main priorities is to highlight our current Ambassadors and the amazing work they are doing. They truly embody the community spirit through their advocacy to help empower others. We will be having more opportunities to connect with our Ambassadors this year. Make sure to stay updated on upcoming events and opportunities.