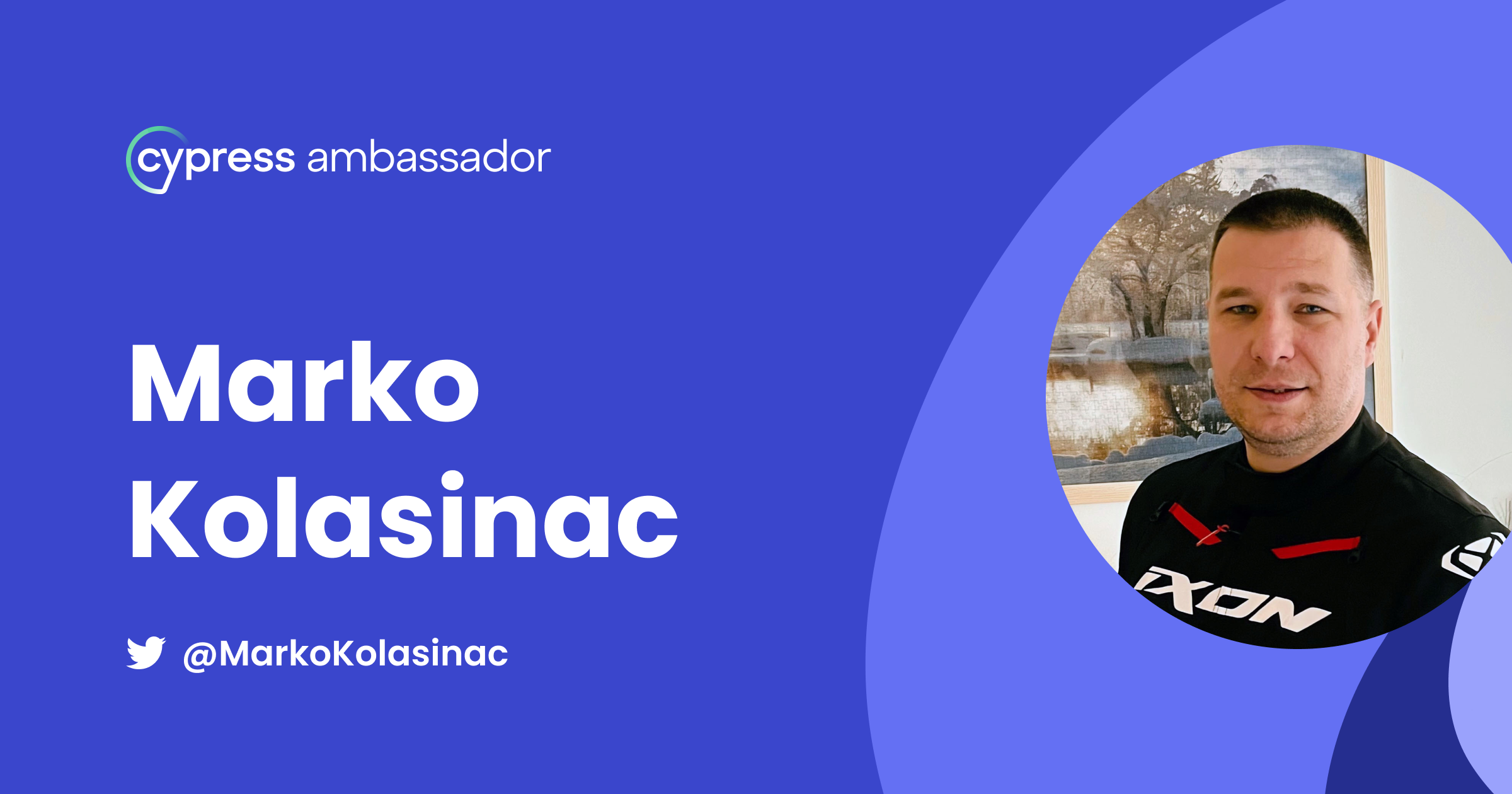 Meet Marko,
With such great success as a user, Marko has created a business model around his knowledge and passion with Cypress, which has flourished into AssertQA. Advocating for Cypress within his company internally helps new members adopt a tool that is guaranteed to improve their workflow and overall developer experience.
What motivates you to be a Cypress Ambassador?
Our business is tied with Cypress so more engagement with Cypress community and company is preferable as well as recognition for the work we have done so far.
How do you currently help others that are either using Cypress or interested in using Cypress?
We introduce Cypress in three levels:
1. We teach test automation with Cypress only in schools
2. We train our staff to work with Cypress
3. We engage our customers to choose or switch to Cypress in test automation areas.
What is your favorite Cypress feature?
Simplicity.
Outside of work, what are your favorite things to do (hobbies, passions, etc.)?
Motorcycle riding.
What is one professional milestone you are proud of? (an accomplishment, celebration, recognition, etc.)
If I had to choose one it is the one that AssertQA is still in the "game" and continuously growing independently as possible.
What is your favorite quote or saying?
Per Aspera ad Astra
About the Ambassador Program.
The Cypress Ambassador program supports the top Cypress advocates around the world. Through this program, Ambassadors are offered speaking opportunities, a personalized hub, and visibility within our extensive network.To learn more about these wonderful ambassadors visit our Official Ambassador webpage.
---
The Cypress Community Team has been working on the official Cypress Ambassador program to include a variety of new experiences, support resources, benefits, contribution areas, and much more. One of our main priorities is to highlight our current Ambassadors and the amazing work they are doing. They truly embody the community spirit through their advocacy to help empower others. We will be having more opportunities to connect with our Ambassadors this year. Make sure to stay updated on upcoming events and opportunities.