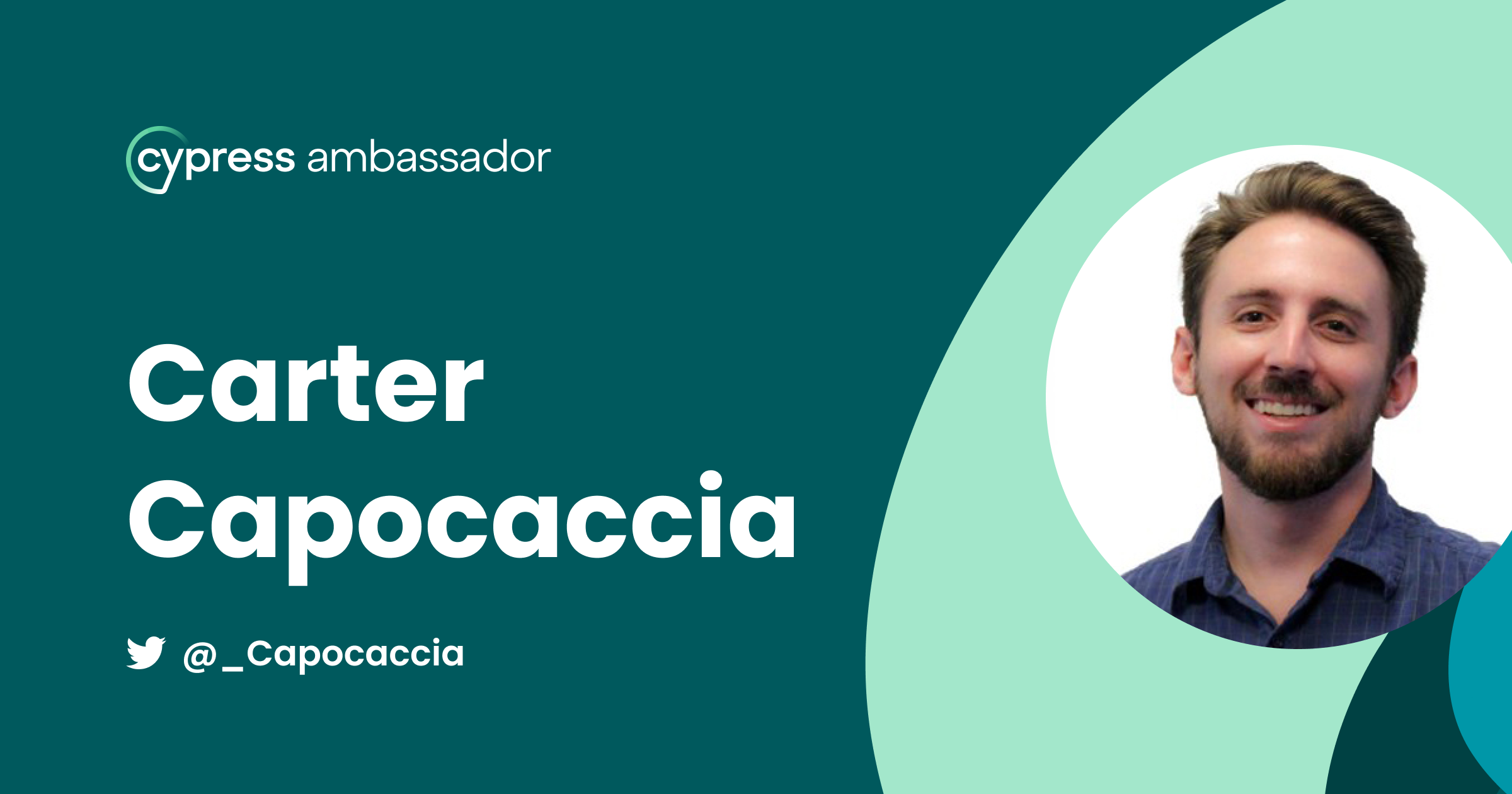 Meet Carter.
We first met Carter in an onboarding interview discussing his interest in the Ambassador program. What stood out most was his passion to educate Cypress users and provide support for technical problems. His current initiative is to share his 6 years of Front-end testing knowledge through speaking engagements.
What motivates you to be a Cypress Ambassador?
I want to continue to be part of the paradigm shift that Cypress has introduced into the automated testing market. When I introduce someone to Cypress and they have that "A-Ha" moment, its fantastic! It is a testing tool that is more writing code than learning another testing framework.
How do you currently help others that are either using Cypress or interested in using Cypress?
I manage a team of engineers that are using Cypress on daily basis. Outside of this, I support my local user group and support members of multiple test automation groups with global membership.
What is your favorite Cypress feature?
Cypress plugins. The extensibility of Cypress through Node just changes how I solve problems.
What is your favorite "Cypress Best Practice" and why?
Unnecessary Waiting! No doubt this is an epidemic in tests from past frameworks. Cypress has completely eliminated the need for hard coded waits and its something that has been a plague among legacy testing tools.
Outside of work, what are your favorite things to do (hobbies, passions, etc.)?
Cycling, running, web dev shenanigans.
What is one professional milestone you are proud of? (an accomplishment, celebration, recognition, etc.)
I had someone tell me they were stuck with a Cypress problem and after googling, came across my blog where I had a solution for them. I have always been hesitant to have a "blog" type website but I was really happy that my work was able to help them!
For new users -  what is the best way to "get started" with Cypress?
Join any of the Cypress communities! The community around Cypress is incredibly knowledgeable and always looking to help out.
What is your favorite quote or saying?
I like going this way. It's better than waiting in line. - Henry Hill from Goodfellas
About the Ambassador Program.
The Cypress Ambassador program supports the top Cypress advocates around the world. Through this program, Ambassadors are offered speaking opportunities, a personalized hub, and visibility within our extensive network.To learn more about these wonderful ambassadors visit our Official Ambassador webpage.
---
The Cypress Community Team has been working on the official Cypress Ambassador program to include a variety of new experiences, support resources, benefits, contribution areas, and much more. One of our main priorities is to highlight our current Ambassadors and the amazing work they are doing. They truly embody the community spirit through their advocacy to help empower others. We will be having more opportunities to connect with our Ambassadors this year. Make sure to stay updated on upcoming events and opportunities.