Today, we released a new user experience improvement for Cypress Dashboard that is designed to help you more efficiently identify tests that require your attention.
The new "Tests for review" section of the Run Overview page consolidates previously disparate test results into a single view. By clicking the respective labels at the top of the new view, you can easily filter by failed, flaky, and changed test results.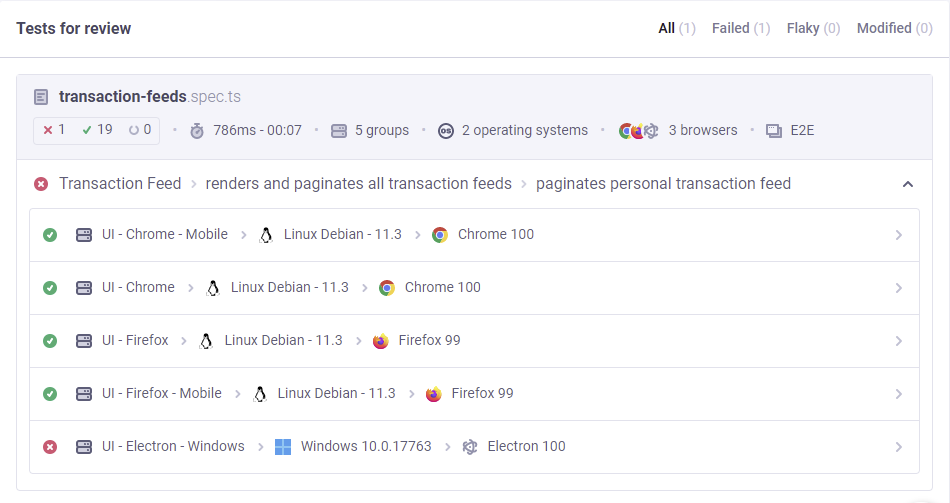 "Identifying and analyzing potentially problematic tests is critical to maintaining CI velocity," says Peter Stakoun, Cypress Product Manager. "We're excited to see what this streamlined user workflow means for engineering and testing teams."
Now, your tests are organized first by test spec file, then by test, and finally by test group. This means you're less likely to miss test details that we previously distributed throughout the Run Overview page.
You can expand each section to learn more about why each test and group surfaced as failed, flaky, or changed. Each test result is accompanied by the same test artifacts that you're used to, including screenshots and videos.
---
Do you have feedback about the new features we recently released? Drop us a note!
---
Not using Cypress Dashboard yet?
Cypress Dashboard adds a layer of timely, simple, and powerful insights to all your test runs in a single, easy-to-use Dashboard. Test and debug faster with Cypress Dashboard. Get started for free.