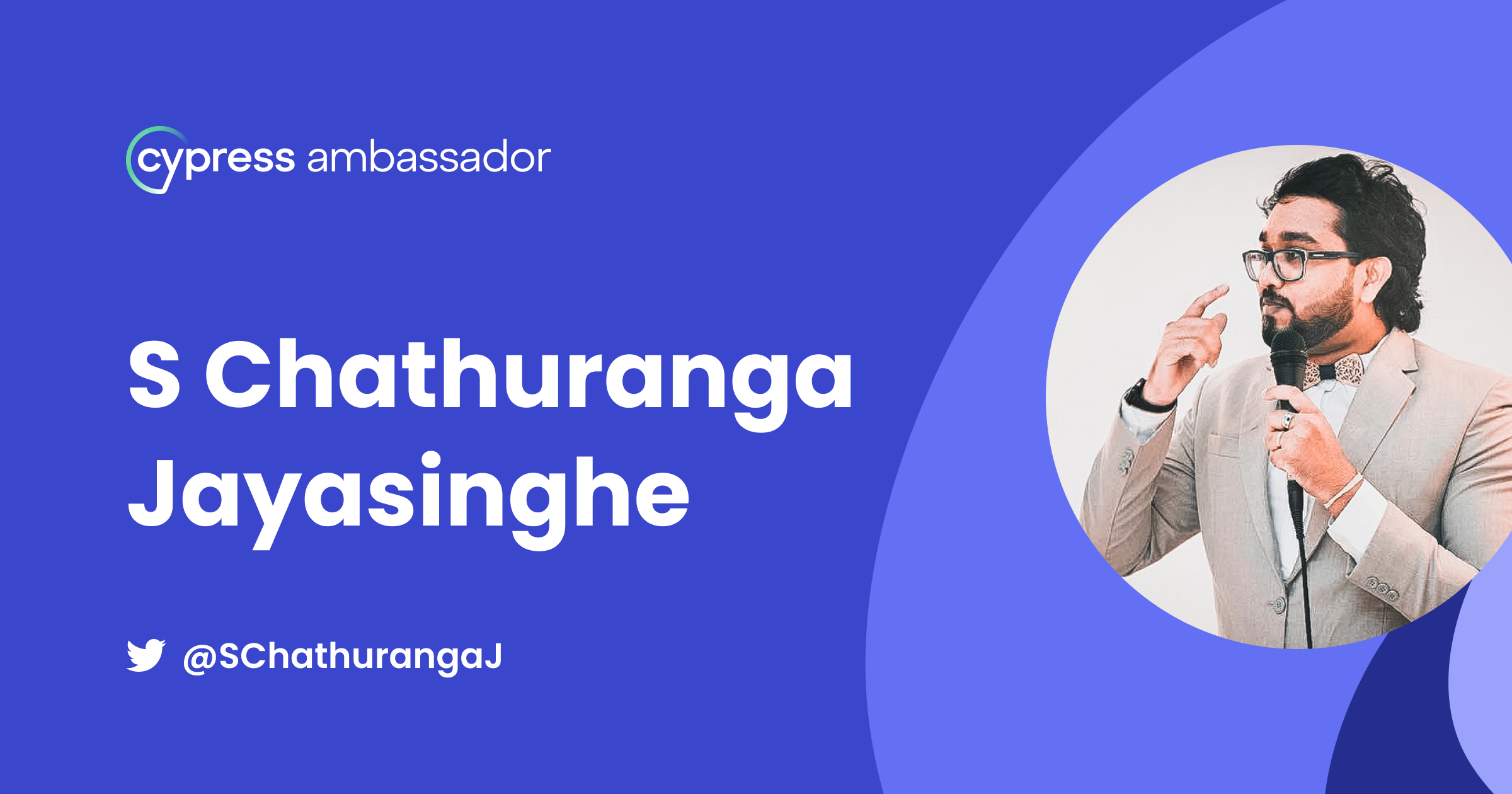 Meet Chathuranga.
One half of the dynamic duo that manage the Cypress Sri Lanka chapter, Chathuranga is driven to spread knowledge on automated testing to his local community. His current initiatives include moderating communities, developing content, and guest speaker opportunities.
What motivates you to be a Cypress Ambassador?
Having the insights and getting the issues sorted out faster
How do you currently help others that are either using Cypress or interested in using Cypress?
Writing articles on medium, Sharing knowledge on Facebook group, Speaking at events
What is your favorite Cypress feature?
Being real time
Outside of work, what are your favorite things to do (hobbies, passions, etc.)?
Playing Cricket & Traveling
What is one professional milestone you are proud of? (an accomplishment, celebration, recognition, etc.)
Setting up a custom cypress framework at Sana Commerce for test automation
What is your favorite quote or saying?
"The quieter you become, the more you can hear!"
About the Ambassador Program.
The Cypress Ambassador program supports the top Cypress advocates around the world. Through this program, Ambassadors are offered speaking opportunities, a personalized hub, and visibility within our extensive network.To learn more about these wonderful ambassadors visit our Official Ambassador webpage.
---
The Cypress Community Team has been working on the official Cypress Ambassador program to include a variety of new experiences, support resources, benefits, contribution areas, and much more. One of our main priorities is to highlight our current Ambassadors and the amazing work they are doing. They truly embody the community spirit through their advocacy to help empower others. We will be having more opportunities to connect with our Ambassadors this year. Make sure to stay updated on upcoming events and opportunities.