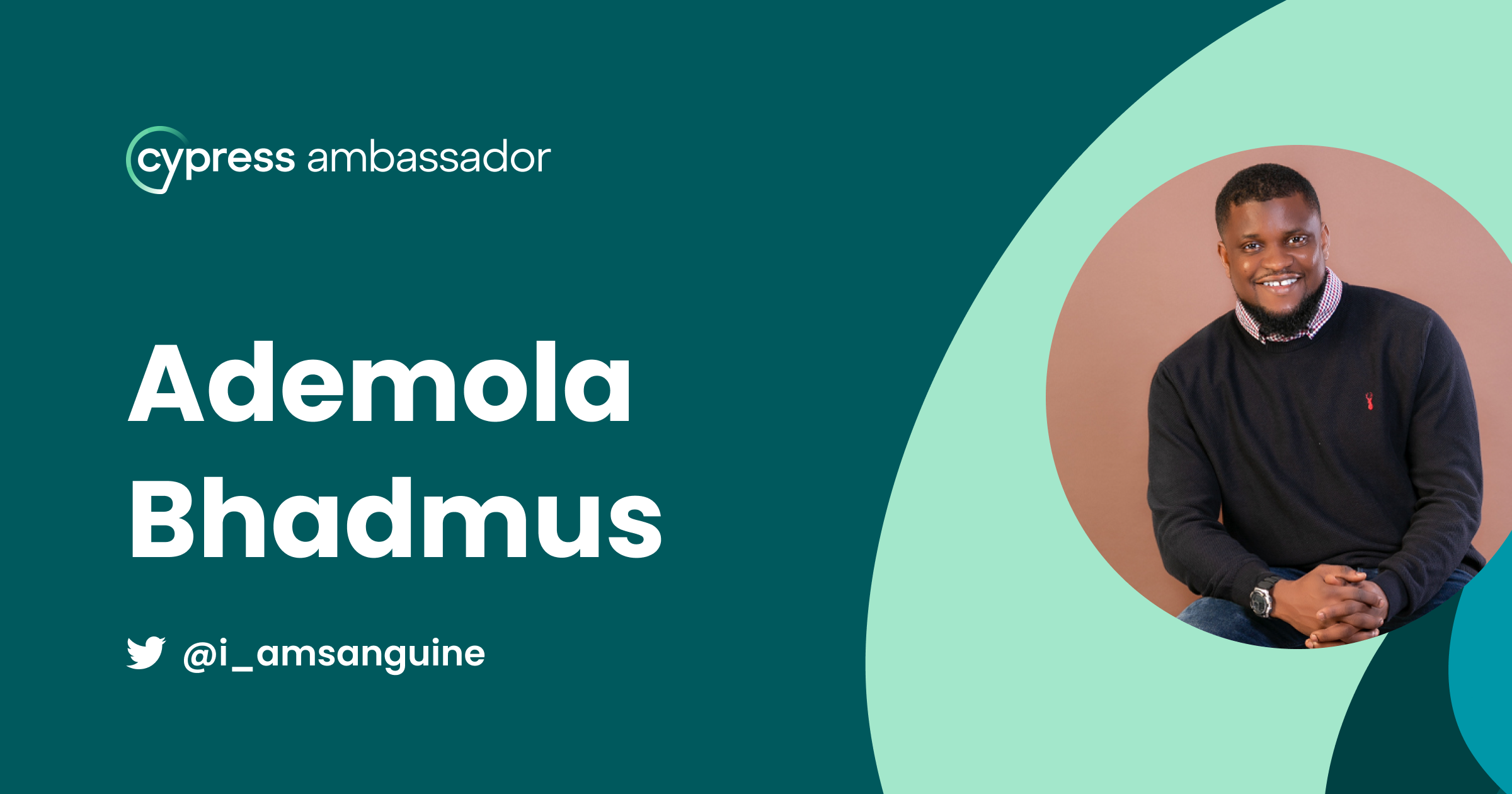 Meet Ademola.
When we first met Ademola, he was beginning his journey as a digital educator with an archive full of videos discussing automated testing. He realized the lack of visibility testing tools received in Nigeria, which inspired him to develop the content himself. Recently, He and his colleague Deborah Agboola have begun to explore new opportunities to support, educate, and expand the testing community in Nigeria.
What motivates you to be a Cypress Ambassador?
The possibility of reaching a wider community and helping them scale as Test Automation Engineers
How do you currently help others that are either using Cypress or interested in using Cypress?
I make videos on Cypress and I upload to youtube
What is your favorite Cypress feature?
cy.intercept()
What is your favorite "Cypress Best Practice" and why?
Avoid unnecessary waits
Outside of work, what are your favorite things to do (hobbies, passions, etc.)?
Play Scrabble, Watch Soccer
What is one professional milestone you are proud of? (an accomplishment, celebration, recognition, etc.)
This! Being a Cypress Ambassador! I was only making videos to help people, I never knew it would get to this.
For new users -  what is the best way to "get started" with Cypress?
Start small, start simple, use video guides and read the cypress documentation for more
What is your favorite quote or saying?
You can't know if you have never experienced it.
About the Ambassador Program.
The Cypress Ambassador program supports the top Cypress advocates around the world. Through this program, Ambassadors are offered speaking opportunities, a personalized hub, and visibility within our extensive network.To learn more about these wonderful ambassadors visit our Official Ambassador webpage.
---
The Cypress Community Team has been working on the official Cypress Ambassador program to include a variety of new experiences, support resources, benefits, contribution areas, and much more. One of our main priorities is to highlight our current Ambassadors and the amazing work they are doing. They truly embody the community spirit through their advocacy to help empower others. We will be having more opportunities to connect with our Ambassadors this year. Make sure to stay updated on upcoming events and opportunities.