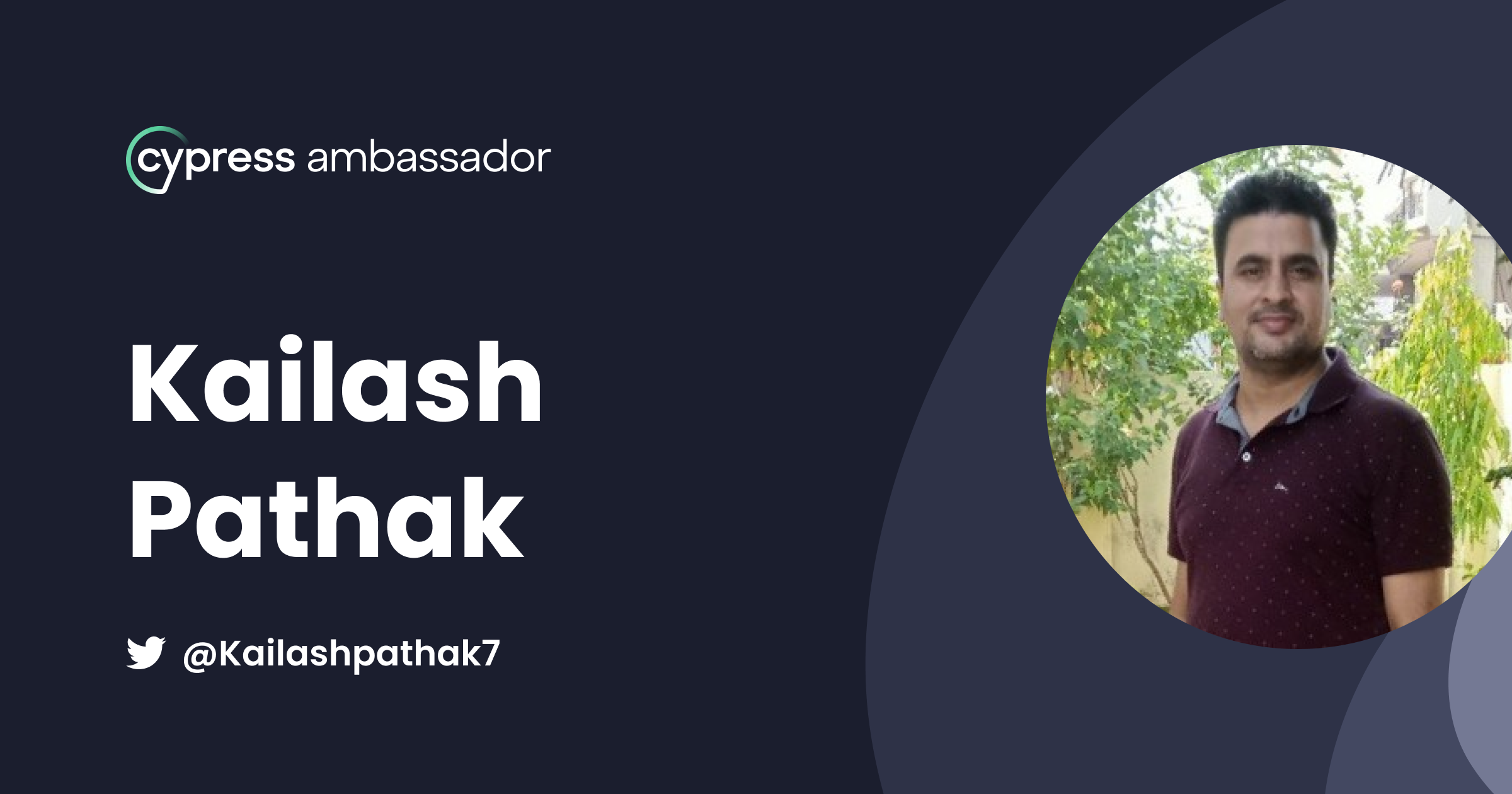 Meet Kailash.
If you have ever heard the quote "Content is king", Kailash is certainly the one wearing the crown. As a Cypress Ambassador he is consistently publishing blogs, use cases, and best practices that the community can leverage to learn the latest updates from Cypress.
What motivates you to be a Cypress Ambassador?
My automation journey started with the tool Selenium. When I installed Cypress  3.0.1 (in 2018)  the first impression in my mind was how easy it was to install and it was really unbelievable. For me it took 2-3 minutes before I was writing my first script.

After, I made a POC and showcased it to my client. My clients were really impressed and for the last 3 years I have used cypress in all our projects. At my present job I am using Cypress for UI ,API and accessibility automation.

How do you currently help others that are either using Cypress or interested in using Cypress?
I started helping the community about 1-2 years ago through various platforms. I have  created a couple of blogs on my personal website  https://qaautomationlabs.com/blogs/ and medium https://kailash-pathak.medium.com/. In addition, I have trained our staff to work with Cypress at my current company . So far I have trained ~20 Quality Assurance Engineers.
What is your favorite Cypress feature?
I love all of the features that Cypress has, but API automation cy.intercept()is definitely my favorite.
What is your favorite "Cypress Best Practice" and why?
Unnecessary Waiting
https://docs.cypress.io/guides/references/best-practices#Unnecessary-Waiting
Outside of work, what are your favorite things to do (hobbies, passions, etc.)?
I love to watch T20 cricket and excited for the Football World Cup in Nov 2022
What is one professional milestone you are proud of? (an accomplishment, celebration, recognition, etc.)
I always hesitate to write a blog because as I start writing one question that comes to my mind is " do people like my content or not". But then slowly I started writing  blogs more consistently. I have written 60-70 blogs on various platforms and I really like when people share my content. I feel really happy that my work was able to help them!
For new users -  what is the best way to "get started" with Cypress?
The Cypress team has done a great job in documenting all the features that Cypress has. Apart from that, the Cypress discord community is incredibly knowledgeable and is always looking to help out.
What is your favorite quote or saying?
Work is worship
About the Ambassador Program.
The Cypress Ambassador program supports the top Cypress advocates around the world. Through this program, Ambassadors are offered speaking opportunities, a personalized hub, and visibility within our extensive network.To learn more about these wonderful ambassadors visit our Official Ambassador webpage.
---
The Cypress Community Team has been working on the official Cypress Ambassador program to include a variety of new experiences, support resources, benefits, contribution areas, and much more. One of our main priorities is to highlight our current Ambassadors and the amazing work they are doing. They truly embody the community spirit through their advocacy to help empower others. We will be having more opportunities to connect with our Ambassadors this year. Make sure to stay updated on upcoming events and opportunities.