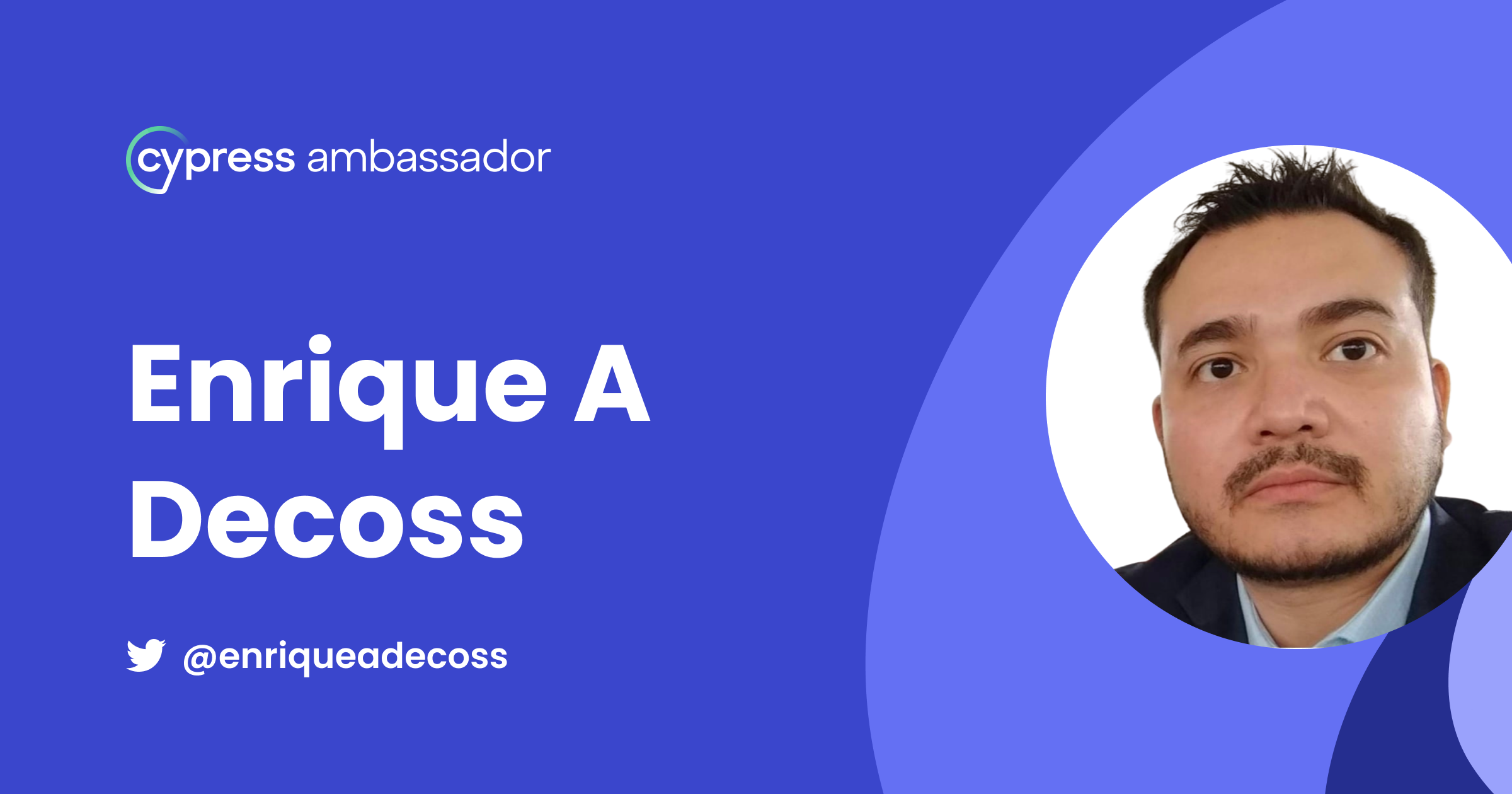 Meet Enrique.
As a member of the Ambassador program, Enrique is excited to learn more and share his thought leadership with his local community. When he isn't attending meetups or creating content, you can find Enrique experimenting with new features and developing best practices!
What motivates you to be a Cypress Ambassador?
Support the global Testing community with my experience.
How do you currently help others that are either using Cypress or interested in using Cypress?
Local Events, Blog post about Cypress and other tools, Answering some question about Cypress and errors or implementing cypress.
What is your favorite Cypress feature?
Debuggability with Debug Directly.
What is your favorite "Cypress Best Practice" and why?
Cy-locators, I like that part and encouraging to use.
Outside of work, what are your favorite things to do (hobbies, passions, etc.)?
swimming and reading books (Specially about technical stuff and space opera novels)
What is one professional milestone you are proud of? (an accomplishment, celebration, recognition, etc.)
I have been recognized as a good Content Writer related to Testing Topics for multiple blogs.
For new users -  what is the best way to "get started" with Cypress?
Installing Cypress and next step following the awesome tutorials in Cypress -> https://docs.cypress.io/examples/examples/tutorials
What is your favorite quote or saying?
"Talent wins games, but teamwork and intelligence win championships."
About the Ambassador Program.
The Cypress Ambassador program supports the top Cypress advocates around the world. Through this program, Ambassadors are offered speaking opportunities, a personalized hub, and visibility within our extensive network.To learn more about these wonderful ambassadors visit our Official Ambassador webpage.
---
The Cypress Community Team has been working on the official Cypress Ambassador program to include a variety of new experiences, support resources, benefits, contribution areas, and much more. One of our main priorities is to highlight our current Ambassadors and the amazing work they are doing. They truly embody the community spirit through their advocacy to help empower others. We will be having more opportunities to connect with our Ambassadors this year. Make sure to stay updated on upcoming events and opportunities.