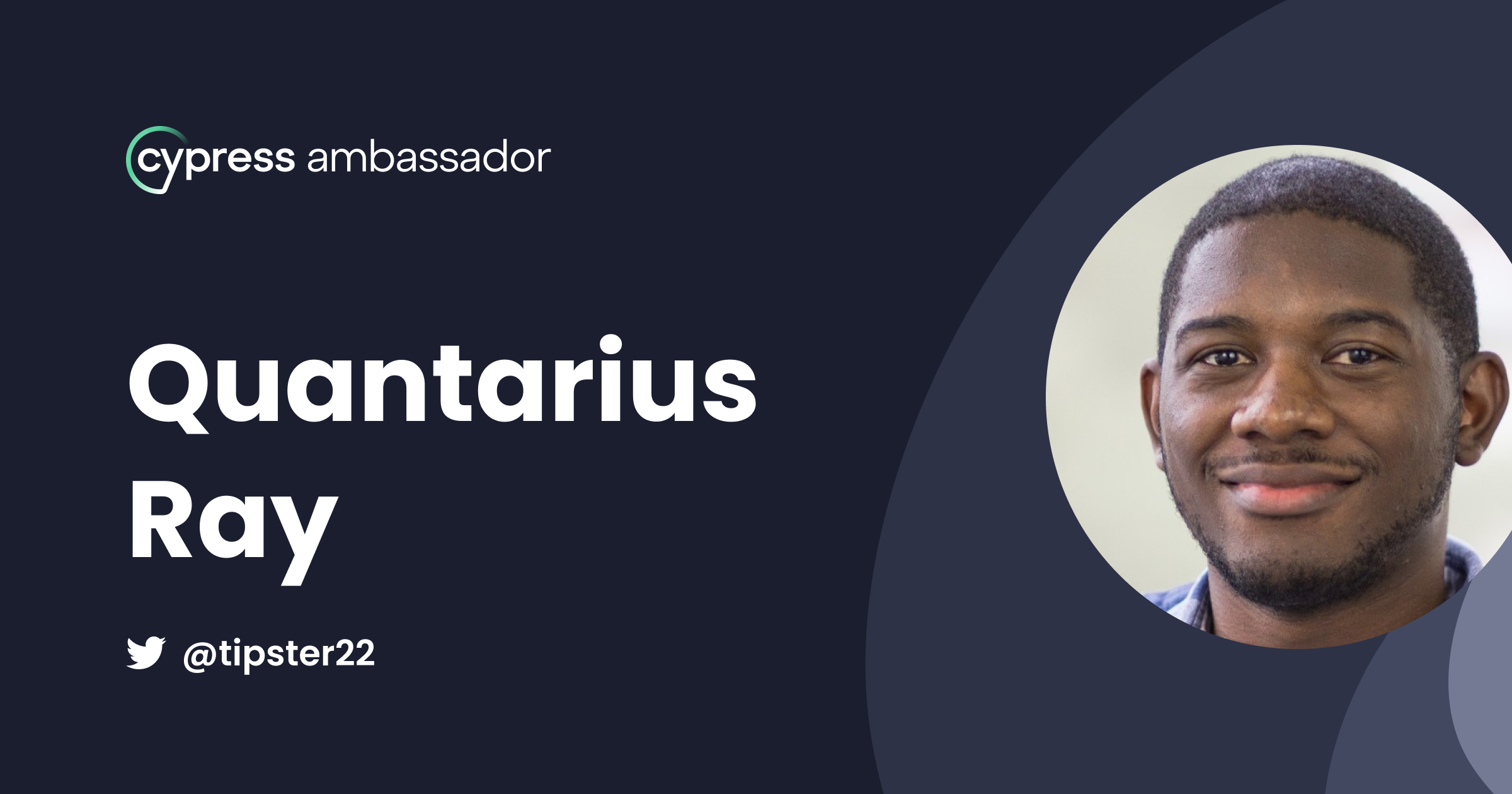 Meet Q.
A passionate problem solver with an eclectic passion for the Angular framework. Since joining the program, Quantarius has contributed through speaking engagements, product feedback, and noteworthy board game suggestions.
What motivates you to be a Cypress Ambassador?
The community! The Cypress team is full of great people and the community has always been one of the best in the Web Development space; rather that be on twitter, stack overflow, or the github forums. I just want to be sure to do my part and help share my knowledge and love of Cypress back to the community!
How do you currently help others that are either using Cypress or interested in using Cypress?
Mostly internally. I do lunch and learns and skill ups on testing with cypress and comparing cypress to other automation tools. I plan on starting a front end meetup in the northwest Arkansas area to help spread my outreach even further; I will hopefully be starting that next month.
What is your favorite Cypress feature?
That I've used: It's almost all tied into Cypress Dashboard. Flake detection, Run History, and smart orchestration are all just extra icing on a double chocolate cake.
That I want to use: Component Testing. I haven't gotten to get into it yet since we use Angular 12 internally, but we are actively pushing to get to Angular 13 in order to get Angular Testing as a new standard.
What is your favorite "Cypress Best Practice" and why?
The "No Page Object Model" strategy. I've been fighting that internally for the better half of a year now, but that is definitely one of the worst things that came out of the protractor norm.
Outside of work, what are your favorite things to do (hobbies, passions, etc.)?
Ultimate Frisbee and Road Biking are my two favorite outdoor activities. Board games, Video games, and Magic The Gathering are my favorite indoor activities.
What is one professional milestone you are proud of? (an accomplishment, celebration, recognition, etc.)
Finally achieving the Architect title. This is something that I've been pushing for for a couple years now and I got to it mostly in part because of my passion for testing.
For new users -  what is the best way to "get started" with Cypress?
Just dive in to the docs. There are many ways to get started with Cypress and there is no "right way" to write a basic test. What makes this even better is that Cypress comes with some basic tests to start with and those are a great visualization to get your feet wet before starting with your own application.
What is your favorite quote or saying?
"Victory comes from finding opportunities in problems." - Unknown
About the Ambassador Program.
The Cypress Ambassador program supports the top Cypress advocates around the world. Through this program, Ambassadors are offered speaking opportunities, a personalized hub, and visibility within our extensive network.To learn more about these wonderful ambassadors visit our Official Ambassador webpage.
---
The Cypress Community Team has been working on the official Cypress Ambassador program to include a variety of new experiences, support resources, benefits, contribution areas, and much more. One of our main priorities is to highlight our current Ambassadors and the amazing work they are doing. They truly embody the community spirit through their advocacy to help empower others. We will be having more opportunities to connect with our Ambassadors this year. Make sure to stay updated on upcoming events and opportunities.