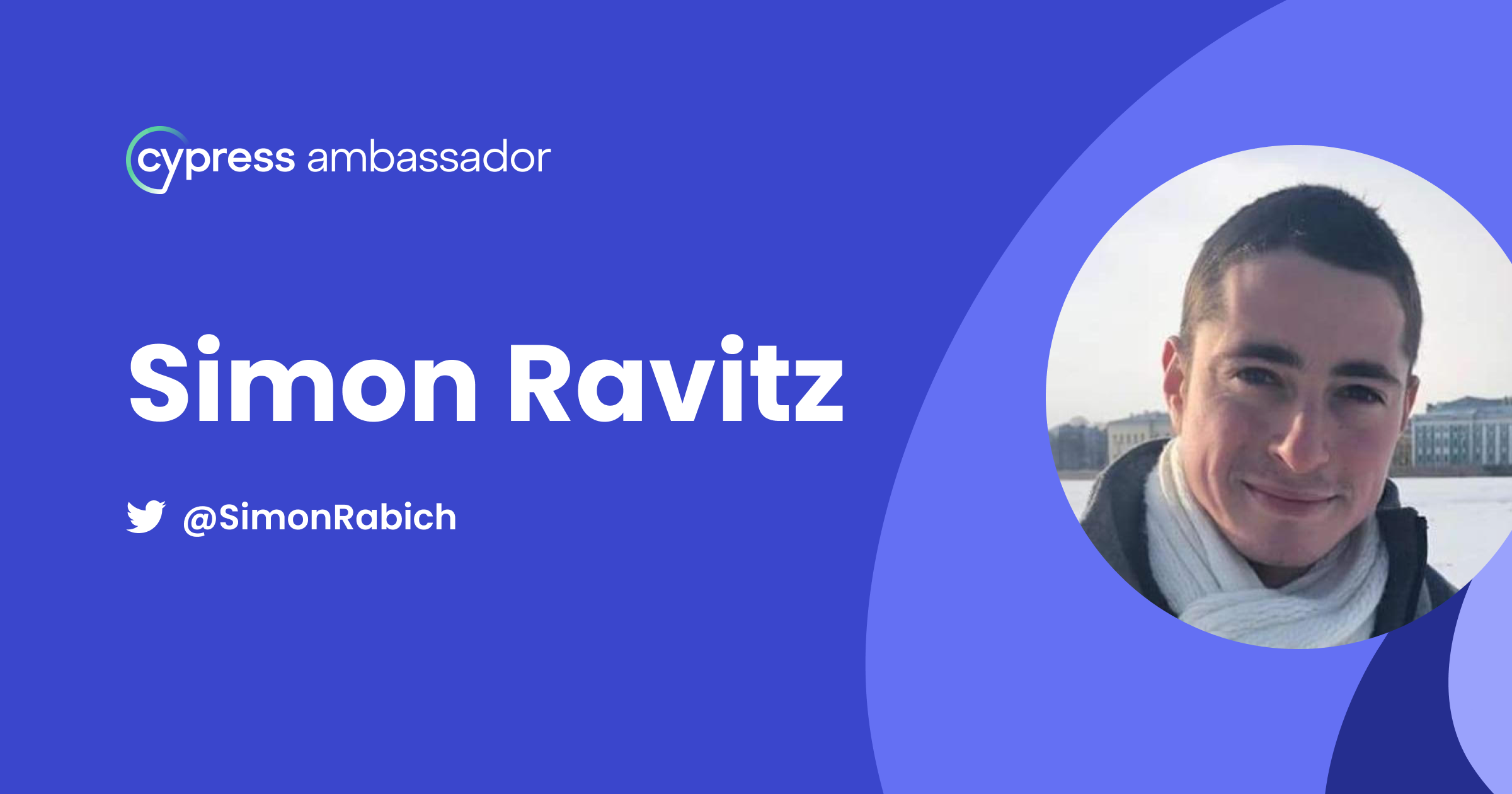 Meet Simon.
A perfect example of the collision between technology and passion for community. As a Cypress Ambassador, he takes pride in the opportunity to support Cypress users from various backgrounds and provide his experiences as educational content.
What motivates you to be a Cypress Ambassador?
The quality of the platform - user friendly
2. I Love to help users. I am glad that Cypress provides a safe community.
3. I want to help others by providing them with education
Also, the testing world is changing and the  front end engineers needs to test their  components and I want to make it happen by spreading knowledge about Cypress.
In the modern technology days it is almost mandatory to include Cypress Sanity Project in the pipeline of deployment inside agile environments where feedback loops and features release to the clients as soon as possible, so I want to be at the front of thought leadership and problem solving.
How do you currently help others that are either using Cypress or interested in using Cypress?
I am managing all automation initiatives at my company. I am constantly active in the cypress community channels. It means a lot to me to collaborate and contribute hands on with other cypress projects.
I am creating amazing real world projects with Cypress and doing testing workshops for developer teams at my company which includes E2E and API tests with Cypress.
What are your favorite Cypress features?
Cy.origin()
Dashboard analytics
Plugins folder and the directories structure
What is your favorite "Cypress Best Practice" and why?
My favorite best practice is putting stable attributes to components in order to avoid flakiness when targeting and accessing visual objects during a running of Cypress projects.
Outside of work, what are your favorite things to do (hobbies, passions, etc.)?
I love to go to sea
I love to travel with my twin brother and try new foodies
What is one professional milestone you are proud of? (an accomplishment, celebration, recognition, etc.)
One milestone is leading the QA engineering field because it gave me the opportunity to design and solve complex projects. Overall, I have come to a point that I am proud of my ability to connect between business requirements and technical solutions.
For new users -  what is the best way to "get started" with Cypress?
Go straight to download Cypress. In a few seconds you will see the UI screen up and running with best practice examples of all kinds of unique tests inside the E2E.
it's the best !
What is your favorite quote or saying?
Cypress was the friend I never knew I was missing, and it was true!
About the Ambassador Program.
The Cypress Ambassador program supports the top Cypress advocates around the world. Through this program, Ambassadors are offered speaking opportunities, a personalized hub, and visibility within our extensive network.To learn more about these wonderful ambassadors visit our Official Ambassador webpage.
---
The Cypress Community Team has been working on the official Cypress Ambassador program to include a variety of new experiences, support resources, benefits, contribution areas, and much more. One of our main priorities is to highlight our current Ambassadors and the amazing work they are doing. They truly embody the community spirit through their advocacy to help empower others. We will be having more opportunities to connect with our Ambassadors this year. Make sure to stay updated on upcoming events and opportunities.