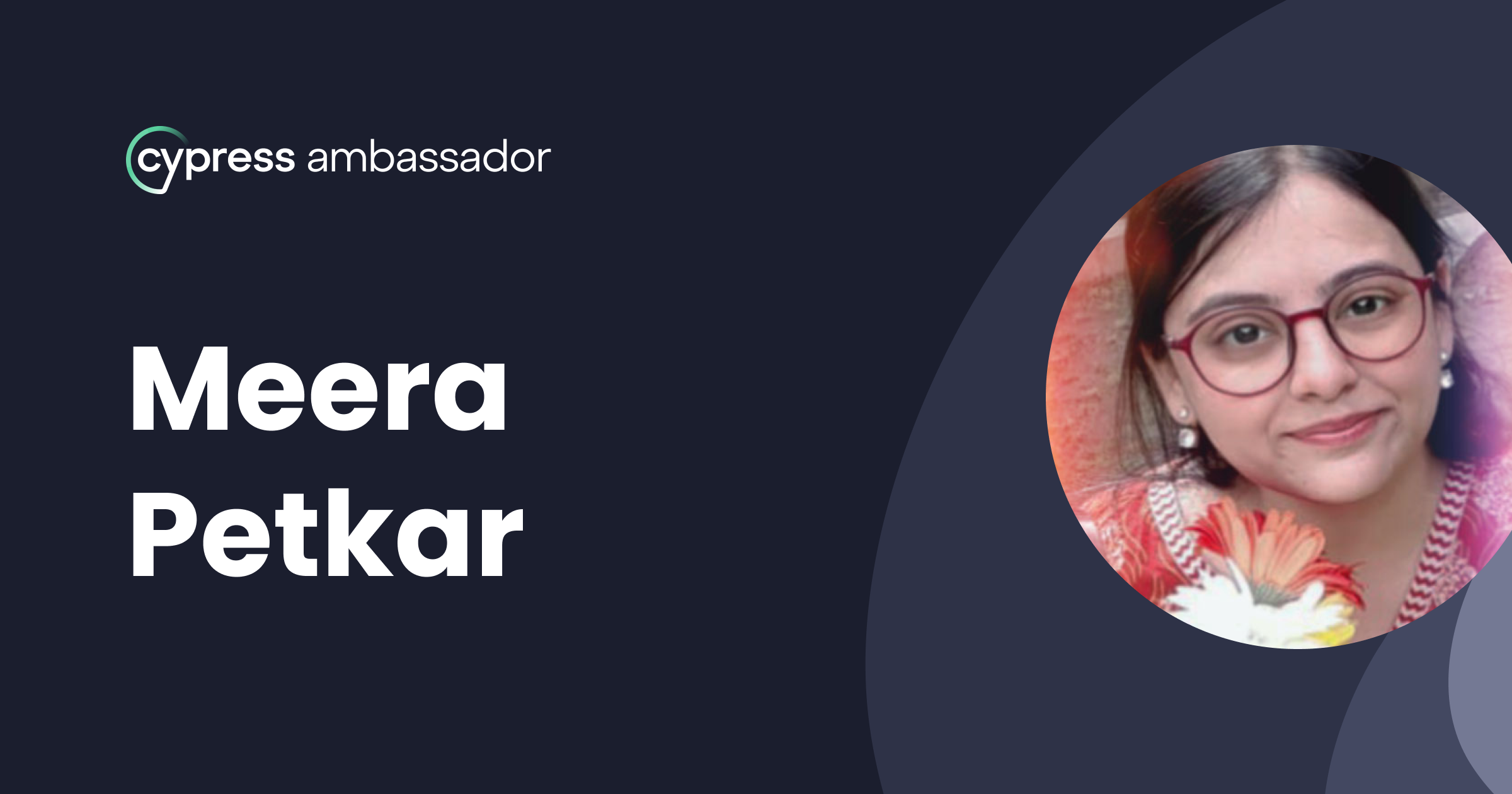 Meet Meera.
A passionate advocate of Cypress and latest member to join the Cypress Ambassador program. As a member of the program, Meera looks forward to providing solution-based content that educates new users.
What motivates you to be a Cypress Ambassador?
I believe in practicing what you believe. I wanted to learn and share what are capabilities of Cypress, reach out to the people, as well as make new friends.
How do you currently help others that are either using Cypress or interested in using Cypress?
I have trained friends & peers in Cypress. I also started writing blogs similar to what can be achieved if you go an extra mile with using common sense with a good logic like. Here is an example:

https://medium.com/@pmeeraa/testing-an-excel-file-with-cypress-34a69f83bc40
You can follow me on Medium. It will encourage me to create more content for readers
What is your favorite Cypress feature?
Tooling>>Code Coverage : https://docs.cypress.io/guides/tooling/code-coverage#E2E-and-unit-code-coverage
What is your favorite "Cypress Best Practice" and why?
My favorite best practice is creating organized tests. It helps other developers to understand the process quickly and it allows us to update them quicker.
Outside of work, what are your favorite things to do (hobbies, passions, etc.)?
Travel & Photography, Making Origami crafts, Calligraphy, Paintings & Walking.
What is one professional milestone you are proud of? (an accomplishment, celebration, recognition, etc.)
Taking Risks & Responsibility - I started my career as a developer with opportunities coming my way from being a manual QA to leading QA teams to launching products to writing blogs to being a Scrum master and being recognised by BrowserStack, Lambdatest, Selenium Community....and latest being a Cypress Ambassador. There is much more to learn & achieve.
For new users -  what is the best way to "get started" with Cypress?
JUST DO IT !.......Visit https://docs.cypress.io/guides/overview/why-cypress
Keep learning if you try nothing is difficult.
What is your favorite quote or saying?
"Do What Is Right Not What Is Easy" - Unknown
About the Ambassador Program.
The Cypress Ambassador program supports the top Cypress advocates around the world. Through this program, Ambassadors are offered speaking opportunities, a personalized hub, and visibility within our extensive network.To learn more about these wonderful ambassadors visit our Official Ambassador webpage.
---
The Cypress Community Team has been working on the official Cypress Ambassador program to include a variety of new experiences, support resources, benefits, contribution areas, and much more. One of our main priorities is to highlight our current Ambassadors and the amazing work they are doing. They truly embody the community spirit through their advocacy to help empower others. We will be having more opportunities to connect with our Ambassadors this year. Make sure to stay updated on upcoming events and opportunities.