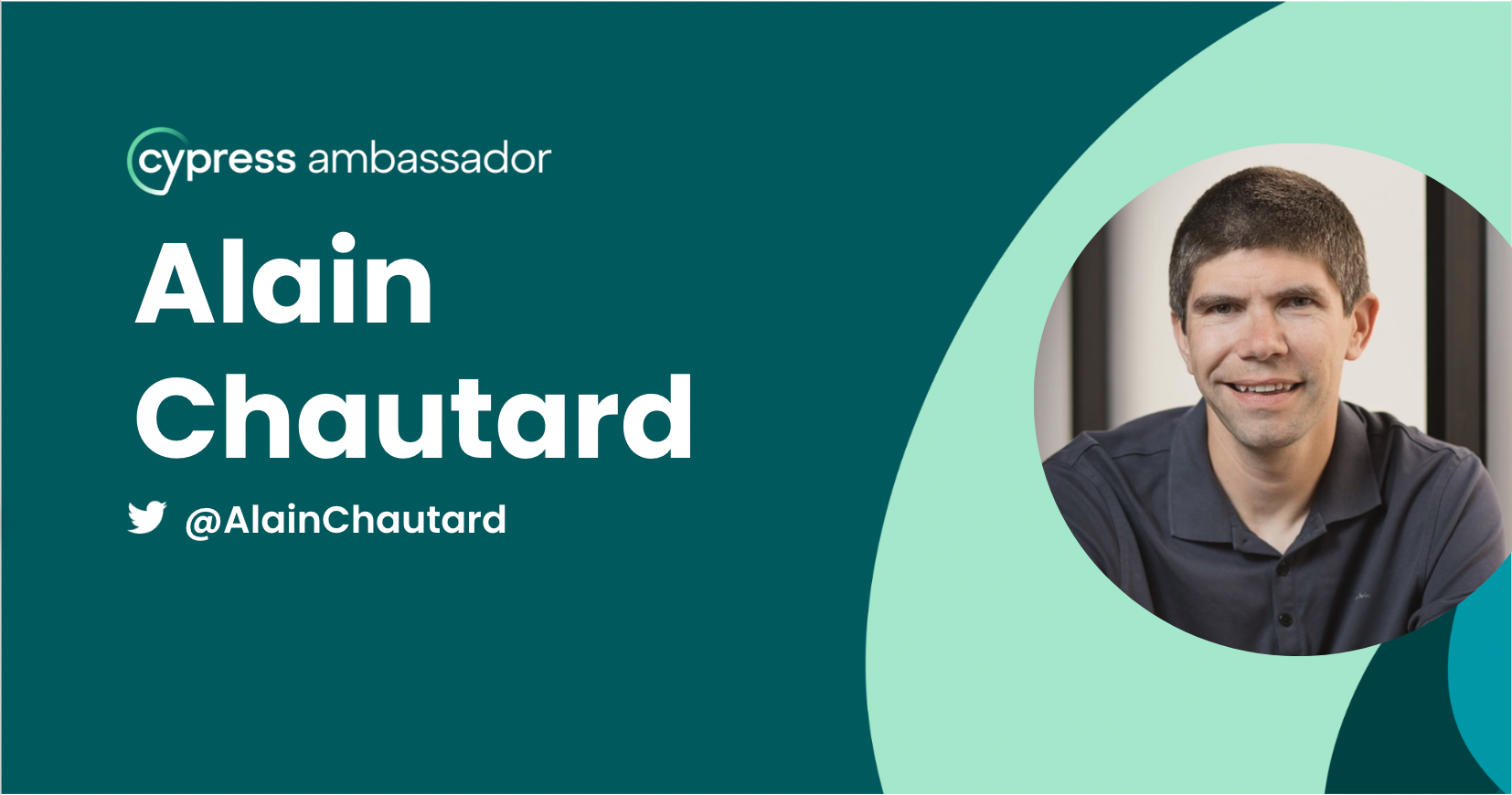 Meet Alain.
As a GDE (Angular), tech trainer and teacher, Alain was the perfect candidate for the Ambassador program! His passion for  helping others learn and grow will bring value to community members and the issues they are experiencing.
What motivates you to be a Cypress Ambassador?
Helping others is the most rewarding thing one can do. I've been teaching web development for years, and seeing people grow and transform their careers as a result is fantastic. As a Cypress Ambassador, I'm looking forward to spreading the word about Cypress even more and get people excited about testing their apps.
How do you currently help others that are either using Cypress or interested in using Cypress?
I do a few workshops every year at different conferences all around the world. We spend a half-day or even a full-day testing a web app with Cypress, introducing all features one by one. What's great about these workshops is to see the excitement of people who discover Cypress for the very first time. They can't believe it!
What is your favorite Cypress feature?
There are many great features in Cypress, but time travel is just as cool as it sounds, so it has to be my number one. A close second is that each command as an automatic waiting time, which to me was a game changer compared to other testing frameworks out there.
What is your favorite "Cypress Best Practice" and why?
Creating custom commands to refactor code that is used over and over again is a satisfying best practice that keeps your code clean and readable. Custom commands also enable writing more tests, faster, which is a nice bonus.
Outside of work, what are your favorite things to do (hobbies, passions, etc.)?
I do a lot of different things, but as soon as my kids are on vacation, we typically go for a family road-trip in a new place to explore. I've visited 48 US states so far and 24 different countries on all continents but Antarctica. So travel would be my number 1. I also like photography (my Instagram is all about landscape photography), reading, playing video games, go-kart racing.
What is one professional milestone you are proud of? (an accomplishment, celebration, recognition, etc.)
I became a Google Developer Expert back in 2017 thanks to my work in the Angular community. I never thought this would be possible as there's only about 120 of such Angular experts recognized by Google in the world. As a result, this was an incredible achievement. Since then, I've also helped other people become Google Developer Experts. Helping people change their life is something incredibly rewarding, and I'm happy to have helped hundreds of developers start or "level up" their software development journey.
For new users -  what is the best way to "get started" with Cypress?
The best way to start is to pick an existing web app and try to write a few tests for it. Once you realize how easy it is to test applications with Cypress, you'll want to learn more and start testing more and more complex scenarios. One of the nice things about Cypress is that the API is very straightforward and well documented. There's almost no barrier of entry to get started.
What is your favorite quote or saying?
I think this quote from Leonardo Da Vinci applies very well to Cypress and software development in general: "Simplicity is the ultimate sophistication". Because it is very easy to write confusing, complex code. But when you build software that is easy to understand, easy to read and write, easy to learn, it is a true achievement that must be celebrated.
About the Ambassador Program.
The Cypress Ambassador program supports the top Cypress advocates around the world. Through this program, Ambassadors are offered speaking opportunities, a personalized hub, and visibility within our extensive network.To learn more about these wonderful ambassadors visit our Official Ambassador webpage.
---
The Cypress Community Team has been working on the official Cypress Ambassador program to include a variety of new experiences, support resources, benefits, contribution areas, and much more. One of our main priorities is to highlight our current Ambassadors and the amazing work they are doing. They truly embody the community spirit through their advocacy to help empower others. We will be having more opportunities to connect with our Ambassadors this year. Make sure to stay updated on upcoming events and opportunities.