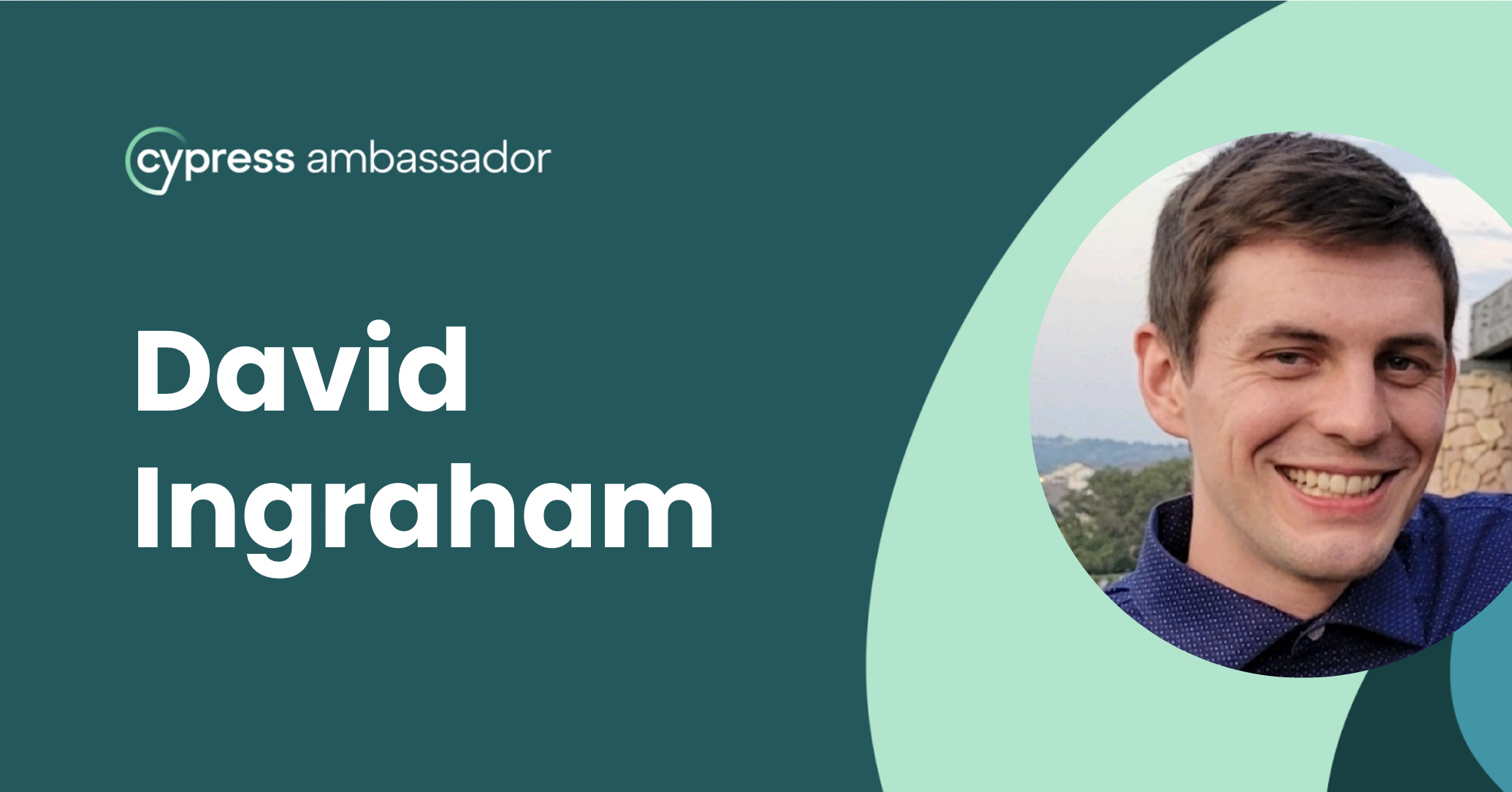 Meet David.
When he saw the opportunity to deepen his relationship with the Cypress community he didn't hesitate to get involved. As an ambassador David looks forward to contributing his knowledge to furthering the growth of those around him.
What motivates you to be a Cypress Ambassador?
I want to give back to the community the same way the community has given to me. I owe the majority of my Cypress knowledge to those in this program and I want to take the next step in my career and become a leader in the field. Helping others take their knowledge to the next level fuels me every-day.
How do you currently help others that are either using Cypress or interested in using Cypress?
I'm quite active in the online Cypress Discord but looking to expand my virtual presence and network in other avenues. In the upcoming year I'll be looking into ways I can contribute through blogs as well as contributing to various cypress-plugins.
What is your favorite Cypress feature?
cy.intercept blew my mind the first time I used it. It opened up layers of testing possibilities I had previously never been exposed to. For me, this is easily one of the most useful Cypress commands and a core concept any test suite should implement, stubbing or not.
What is your favorite "Cypress Best Practice" and why?
Clean up state before tests run. While it seems trivial now, this concept is backwards compared to how myself and a lot of other engineers were trained. This practice has helped challenge my previous knowledge and advance my understanding of what test reliability can become moving forward.
Outside of work, what are your favorite things to do (hobbies, passions, etc.)?
When I'm not dreaming about code, I'm an avid hockey fanatic (Go Avs!) as well as a beer-league hockey player. Additionally, I'll always be a gamer at heart but I've learned to balance out my inside-time with lots of hikes around the beautiful state of Colorado.
What is one professional milestone you are proud of? (an accomplishment, celebration, recognition, etc.)
I had the pleasure of leading an organization with zero automation into a company with over 500 tests running pre-merge. Being able to build an automation framework from a blank, canvas was incredible rewarding. At the end of the day it's not about the tests themselves, but the impact they bring to the quality or the product and the customers experience. Seeing that improve gradually over-time is both rewarding and something I can be proud of today.
For new users -  what is the best way to "get started" with Cypress?
Just do it! - insert Shia LaBeouf here -
Begin with the online documentation. Cypress has some of the best resources any-tool can offer. After that, join the Cypress discord channel and use that for any additional issues you have. Chances are, if you have an issue, someone else has already run into it and it's either been documented online or addressed in the discord channel already. The community is welcoming and open to anyone and there's an abundance of resources to prove it.
What is your favorite quote or saying?
I am the master of my fate:
I am the captain of my soul.
About the Ambassador Program.
The Cypress Ambassador program supports the top Cypress advocates around the world. Through this program, Ambassadors are offered speaking opportunities, a personalized hub, and visibility within our extensive network.To learn more about these wonderful ambassadors visit our Official Ambassador webpage.
---
The Cypress Community Team has been working on the official Cypress Ambassador program to include a variety of new experiences, support resources, benefits, contribution areas, and much more. One of our main priorities is to highlight our current Ambassadors and the amazing work they are doing. They truly embody the community spirit through their advocacy to help empower others. We will be having more opportunities to connect with our Ambassadors this year. Make sure to stay updated on upcoming events and opportunities.