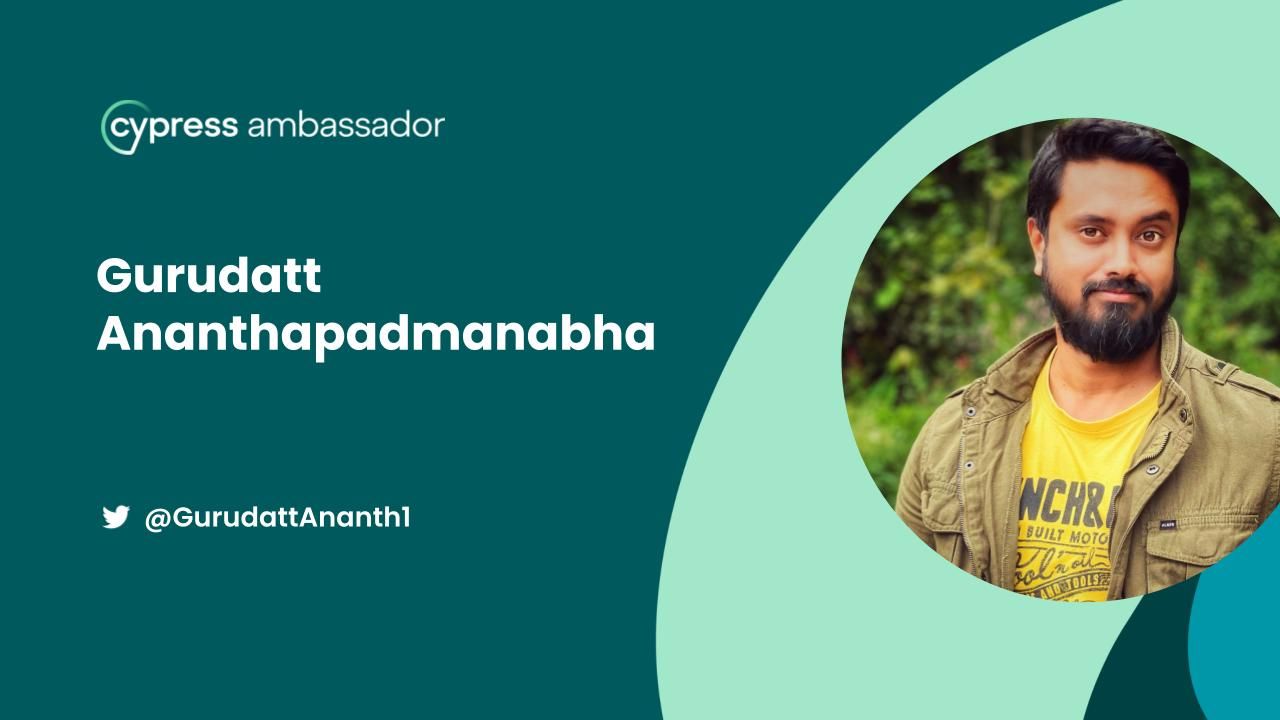 Meet Gurudatt.
When he joined the Ambassador program his main goal was to expand the reach of his articles and blogs. As a member of the program his peers have awarded him with the title "Biggest Cypress Advocate" because of his continuous efforts in enabling community members to be successful.
What motivates you to be a Cypress Ambassador?
Being Cypress Ambassador means being on top of new features and understanding existing features well, so that I can share this information via my blogs and also help people who come up with questions. It feels great when problems users are facing get resolved, they come back and thank you! This makes me learn more and share more.
How do you currently help others that are either using Cypress or interested in using Cypress?
I write blogs/articles about the features that Cypress is releasing or the common questions/issues that new beginners encounter during their starting days with Cypress. I also answer questions in our Cypress Discord group.
What is your favorite Cypress feature?
cy.intercept() . This is one of the best features Cypress has which we can use for waiting network completion, test a feature at an early stage by mocking response and lots more.
What is your favorite "Cypress Best Practice" and why?
Instead of purely depending on Page objects, use Custom commands and this will make the code maintenance way easier.
Outside of work, what are your favorite things to do (hobbies, passions, etc.)?
Spending time at Gym, Travelling, Photography, Reading Fictional Mythology books
What is one professional milestone you are proud of? (an accomplishment, celebration, recognition, etc.)
Recently I worked on enabling Cypress tests in our Build pipeline, which from day 1 starting catching the bugs and improving the quality, our Team at office is very happy about bringing Cypress as Automated Test Tool
For new users -  what is the best way to "get started" with Cypress?
Unlike other Automated tools, Cypress doesn't need any setup or doesn't have any headache of writing Framework from scratch. It's almost like plug and play so new users can directly start from writing tests and see the benefit. One can also learn most of the cypress concepts hands on from https://learn.cypress.io
What is your favorite quote or saying?
"The more you learn the more you understand how less you know." - Unknown
About the Ambassador Program.
The Cypress Ambassador program supports the top Cypress advocates around the world. Through this program, Ambassadors are offered speaking opportunities, a personalized hub, and visibility within our extensive network.To learn more about these wonderful ambassadors visit our Official Ambassador webpage.
---
The Cypress Community Team has been working on the official Cypress Ambassador program to include a variety of new experiences, support resources, benefits, contribution areas, and much more. One of our main priorities is to highlight our current Ambassadors and the amazing work they are doing. They truly embody the community spirit through their advocacy to help empower others. We will be having more opportunities to connect with our Ambassadors this year. Make sure to stay updated on upcoming events and opportunities.