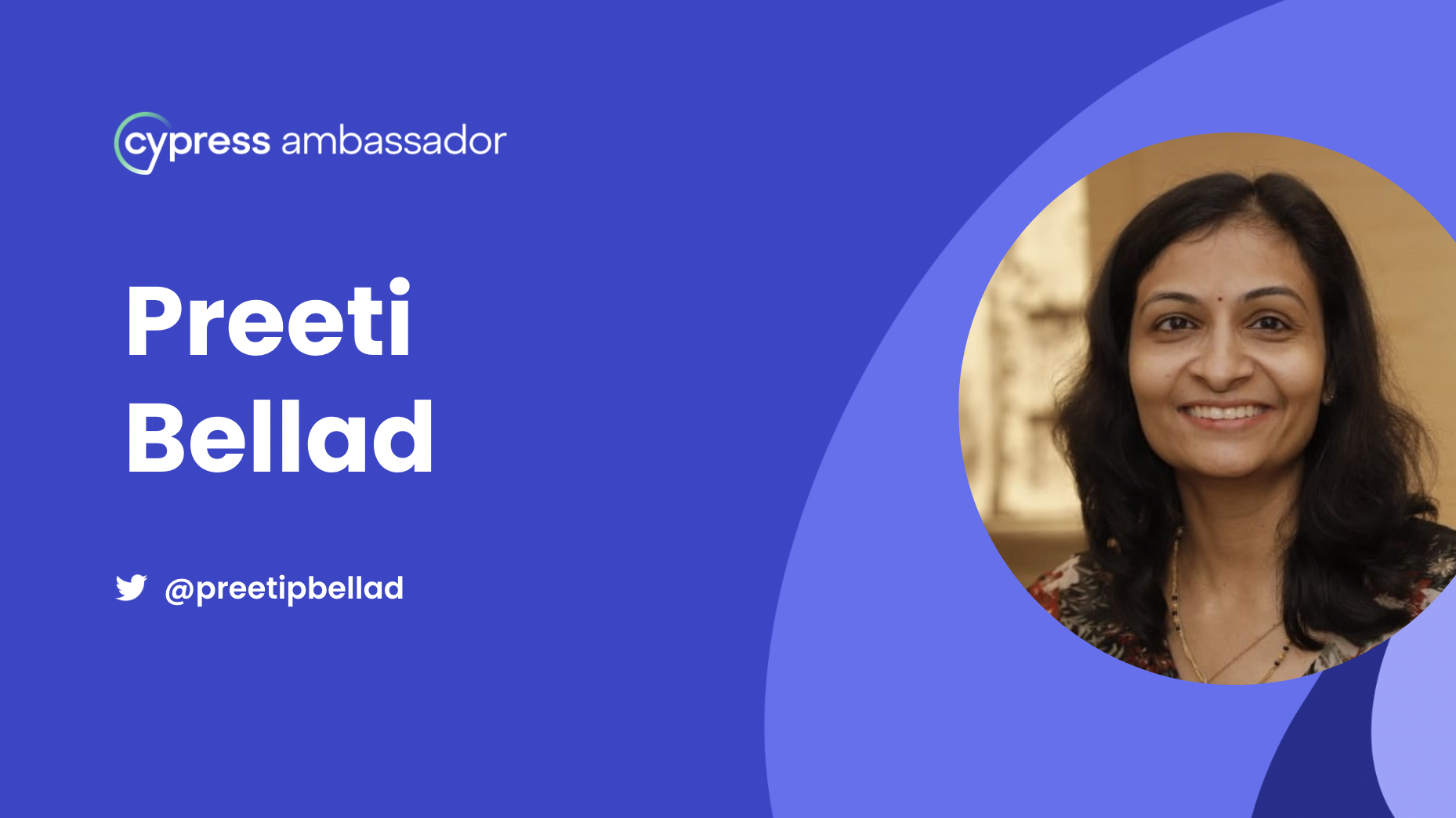 What motivates you to be a Cypress Ambassador?
The first reason is to provide my software testing insights gained through years of deep QA expertise to the Cypress team. In this way I want to contribute towards improved and new features in Cypress. My second reason is the opportunity to help to solve other people's problems in Cypress with my knowledge with special authority as Cypress Ambassador.
How do you currently help others that are either using Cypress or interested in using Cypress?
1) I help solve problems posted on different Cypress community channels.
2) I write LinkedIn posts on testing challenges and Cypress implementation.
What is your favorite Cypress feature?
1) Excellent debugging facility in GUI mode. This has helped me to catch lot of edge case bugs which may or may not be possible through manual testing
2) Spying and Stubbing network calls
What is your favorite "Cypress Best Practice" and why?
Effective use of Cypress Commands.js
Outside of work, what are your favorite things to do (hobbies, passions, etc.)?
Listening to music, visit different places (with a purpose in mind)
What is one professional milestone you are proud of? (an accomplishment, celebration, recognition, etc.)
I received acknowledgement as the Top University in my Engineering Bachelors course
For new users -  what is the best way to "get started" with Cypress?
Cypress documentation is the best you can get.
If you are coming with experience of writing test automation with different tools, please start with an open mind with no baggage.
What is your favorite quote or saying?
"Be a Great QA Engineer with Automation and Manual Testing as your hands" - Unknown
About the Ambassador Program.
The Cypress Ambassador program supports the top Cypress advocates around the world. Through this program, Ambassadors are offered speaking opportunities, a personalized hub, and visibility within our extensive network.To learn more about these wonderful ambassadors visit our Official Ambassador webpage.
---
The Cypress Community Team has been working on the official Cypress Ambassador program to include a variety of new experiences, support resources, benefits, contribution areas, and much more. One of our main priorities is to highlight our current Ambassadors and the amazing work they are doing. They truly embody the community spirit through their advocacy to help empower others. We will be having more opportunities to connect with our Ambassadors this year. Make sure to stay updated on upcoming events and opportunities.