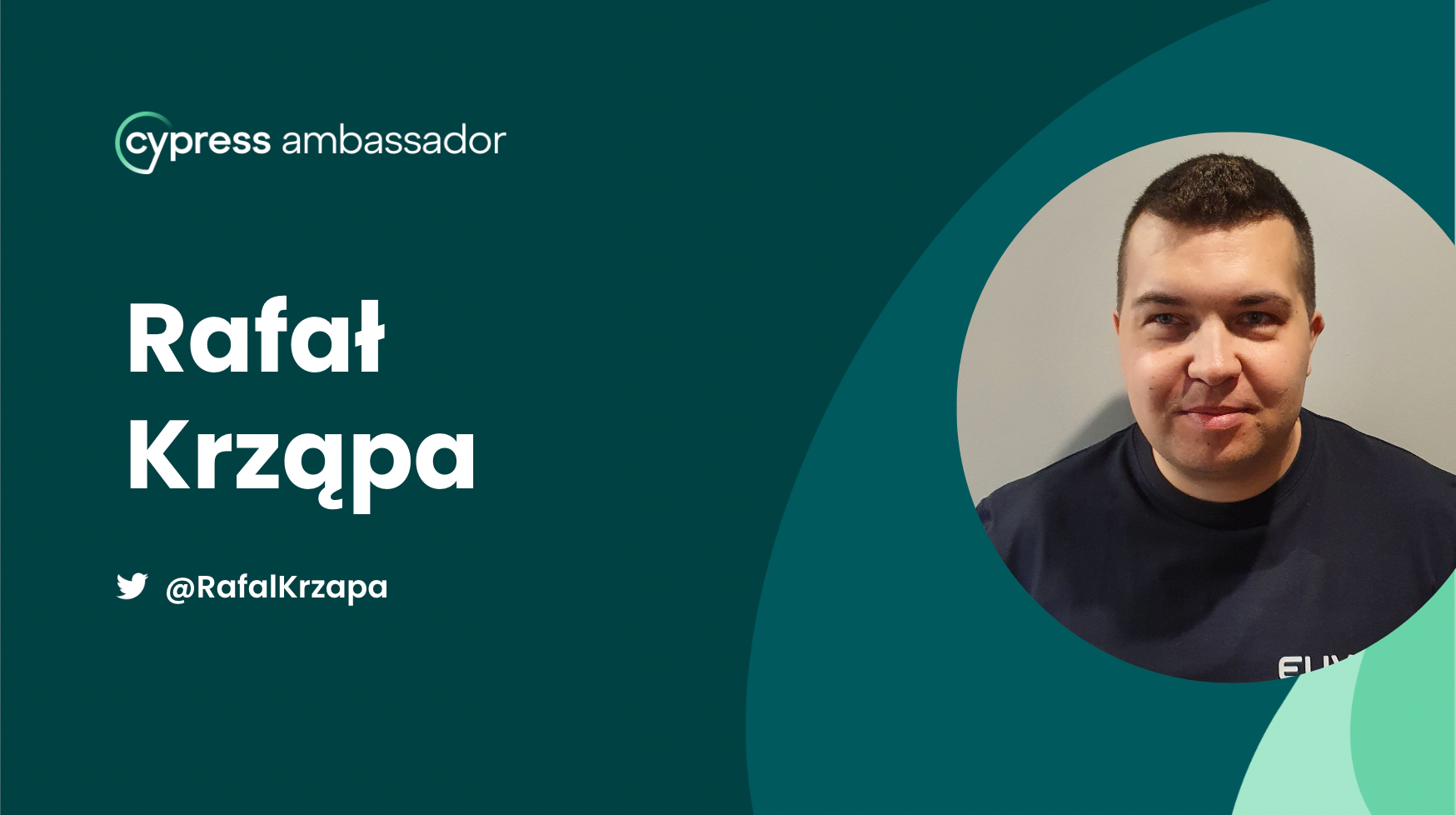 What motivates you to be a Cypress Ambassador?
I still want to share knowledge about Cypress. Preparing articles from my experience with Cypress can be more helpful for all world users. Of Course, I want to be a speaker at conferences, meetings, and local events. I want to be part of a team that works with a dynamically developing tool.
How do you currently help others that are either using Cypress or interested in using Cypress?
1. From 2020 I have my own page about testing, and I am sharing knowledge.
2. I am writing articles about Cypress from my experience, so people can find the resolution to their problems.
3. Currently I am a QA Lead in one of the biggest companies in Poland, and I am learning with younger testers, and sharing knowledge about Cypress.
4. Speaking at the events.
What is your favorite Cypress feature?
Easy debugs after the test's failure - with information from the console, and with the videos.
What is your favorite "Cypress Best Practice" and why?
Easy test organization.
Outside of work, what are your favorite things to do (hobbies, passions, etc.)?
Gym, books, and audiobooks.
What is one professional milestone you are proud of? (an accomplishment, celebration, recognition, etc.)
When we had a covid problem - I prepared POC and started my own page about software testing. It was my new opening in my career.
For new users -  what is the best way to "get started" with Cypress?
Look at some entry-level movies, read the documentation and start writing tests - more will be in the future.
What is your favorite quote or saying?
You have to expect the most from yourself.
About the Ambassador Program.
The Cypress Ambassador program supports the top Cypress advocates around the world. Through this program, Ambassadors are offered speaking opportunities, a personalized hub, and visibility within our extensive network.To learn more about these wonderful ambassadors visit our Official Ambassador webpage.
---
The Cypress Community Team has been working on the official Cypress Ambassador program to include a variety of new experiences, support resources, benefits, contribution areas, and much more. One of our main priorities is to highlight our current Ambassadors and the amazing work they are doing. They truly embody the community spirit through their advocacy to help empower others. We will be having more opportunities to connect with our Ambassadors this year. Make sure to stay updated on upcoming events and opportunities.