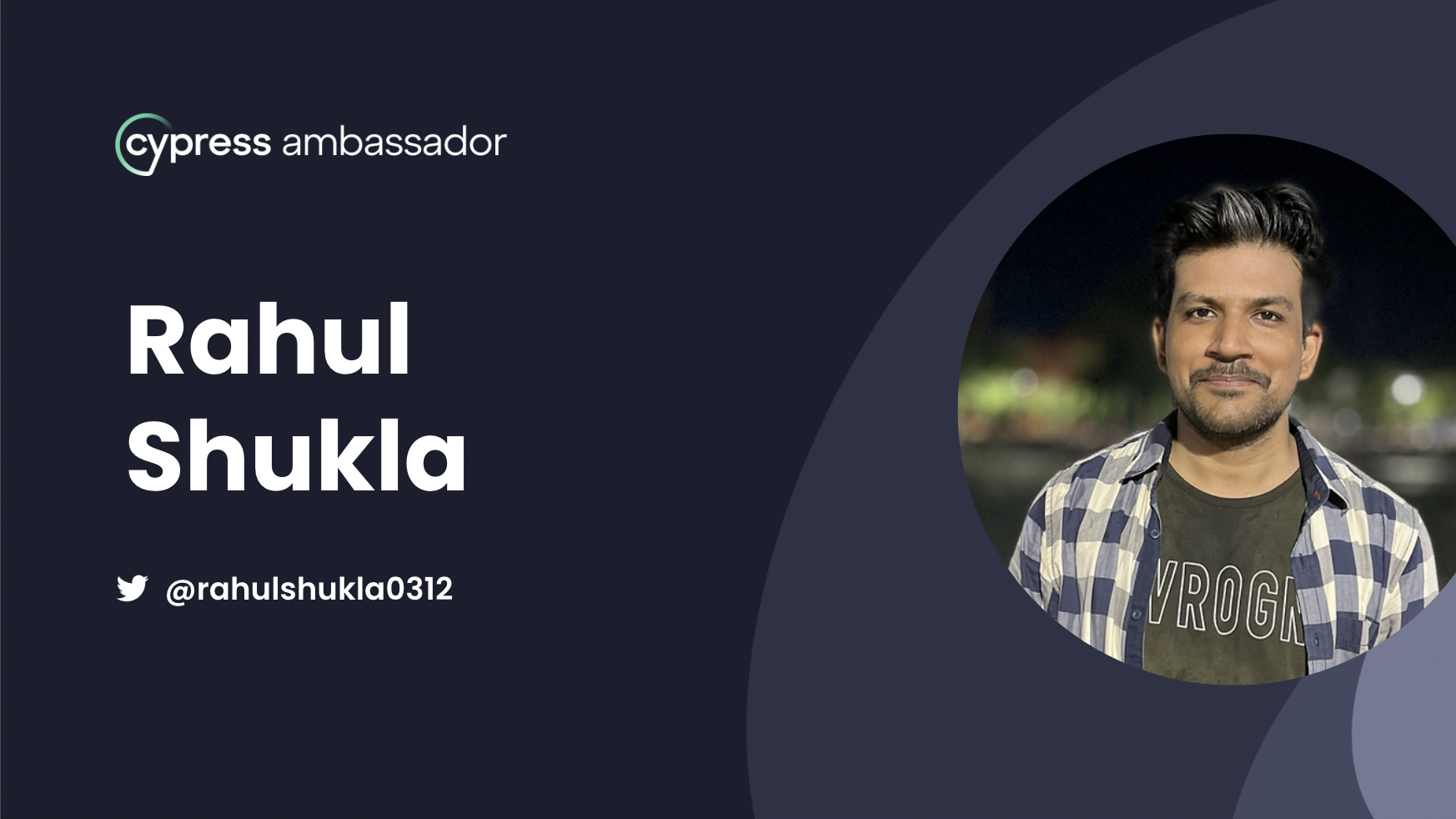 What motivates you to be a Cypress Ambassador?
Being involved with like minded people where I can get the opportunity to learn something new each day.
How do you currently help others that are either using Cypress or interested in using Cypress?*
Assisting companies who are in dilemma of using Cypress, connecting with QA community online and offline and discussing new features which keeps everyone motivated and updated.
What is your favorite Cypress feature?
Ohh!! the list is endless but if I have to choose one that would be intercept , I have used that extensively
What is your favorite "Cypress Best Practice" and why?
Take advantage of Cypress's automatic waiting mechanism, which eliminates the need for explicit waits and makes your tests more resilient to changes in the application's behavior
Outside of work, what are your favorite things to do (hobbies, passions, etc.)?
Watch Tennis, Hangout with Friends, Photography
What is one professional milestone you are proud of? (an accomplishment, celebration, recognition, etc.)
When I cleared MCP and the latest one is being selected for Cypress Ambassador Program
For new users -  what is the best way to "get started" with Cypress?
As my Cypress T-shirt says npm install cypress
What is your favorite quote or saying?
You cannot change your future, but you can change your habits, and surely your habits will change your future.
About the Ambassador Program.
The Cypress Ambassador program supports the top Cypress advocates around the world. Through this program, Ambassadors are offered speaking opportunities, a personalized hub, and visibility within our extensive network.To learn more about these wonderful ambassadors visit our Official Ambassador webpage.
---
The Cypress Community Team has been working on the official Cypress Ambassador program to include a variety of new experiences, support resources, benefits, contribution areas, and much more. One of our main priorities is to highlight our current Ambassadors and the amazing work they are doing. They truly embody the community spirit through their advocacy to help empower others. We will be having more opportunities to connect with our Ambassadors this year. Make sure to stay updated on upcoming events and opportunities.