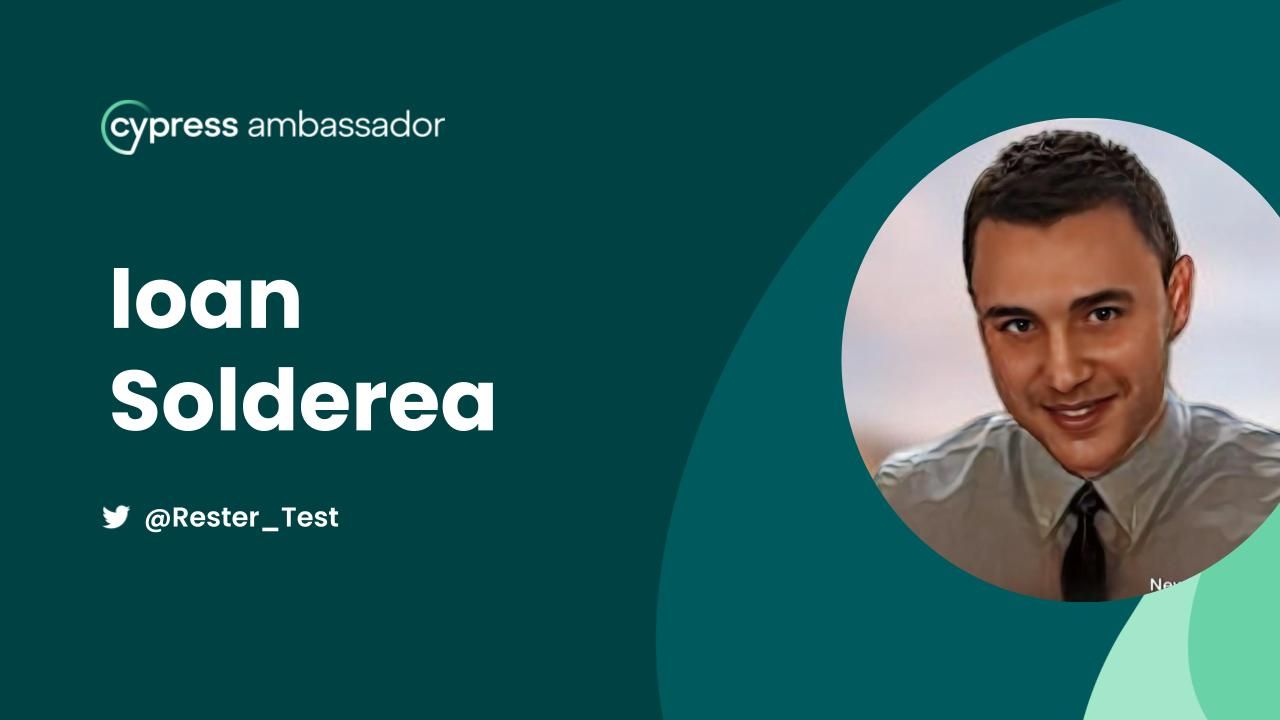 What motivates you to be a Cypress Ambassador?
When I made contact with Cypress it helped a lot to see articles, posts and videos made with passion, made with the sole idea in mind to help teach Cypress. Little did I know at that time that all the names I was following were actually Cypress Ambassadors. After finding that out, and after getting to know Cypress a little better, I decided that if I ever got the chance I would want to do the same, to give back to the Community that helped me.
How do you currently help others that are either using Cypress or interested in using Cypress?
At the moment I try to help the community in 3 ways:
I post on my youtube channel at least 1 Cypress video a month
When the opportunity arrives I do presentation of Cypress at meetups
From time to time I write articles about how to solve different Testing Challenges with Cypress
In the future I plan to be more active on Cypress Groups and Discord and help wherever I can.
What is your favorite Cypress feature?
My favorite Cypress would have to be the Cypress Studio. It provides a user-friendly way to create Cypress Tests fast and clear. I am really happy it got put back in Cypress after it was on the point to be deprecated a few releases back. If you ever need more information on Cypress Studio, do not hesitate to contact me.
What is your favorite "Cypress Best Practice" and why?
I would have to say Selecting Elements. One of the most difficult tasks to overcome when starting with test automation is finding the right selector for elements. Due to incorrect selectors, tests can become flaky and therefore need constant review and changes which takes time, effort and at one point it may become frustrating since you can end up spending more time fixing locators than actually creating automated tests. Therefore a good strategy for Selecting Elements is key. And it is ideal that Cypress provides one.
Outside of work, what are your favorite things to do (hobbies, passions, etc.)?
Spending time with the family would be top of the list of favorite things to do when I am not working.
What is one professional milestone you are proud of? (an accomplishment, celebration, recognition, etc.)
One that I am very proud of is being accepted into the Cypress Ambassador Program :)
For new users -  what is the best way to "get started" with Cypress?
I actually made a small video about it. Have a look
https://www.youtube.com/watch?v=QwInbWNrh_k&ab_channel=ResterTest
What is your favorite quote or saying?
a try catch a day keeps the error finally away
About the Ambassador Program.
The Cypress Ambassador program supports the top Cypress advocates around the world. Through this program, Ambassadors are offered speaking opportunities, a personalized hub, and visibility within our extensive network.To learn more about these wonderful ambassadors visit our Official Ambassador webpage.
---
The Cypress Community Team has been working on the official Cypress Ambassador program to include a variety of new experiences, support resources, benefits, contribution areas, and much more. One of our main priorities is to highlight our current Ambassadors and the amazing work they are doing. They truly embody the community spirit through their advocacy to help empower others. We will be having more opportunities to connect with our Ambassadors this year. Make sure to stay updated on upcoming events and opportunities.